Join Us for Our Anti-Stigma Summer Sessions
Posted by See Me, 27 August 2020
Passionate about mental health and creating change? We'd love you to join our growing social movement to tackle mental health stigma and discrimination.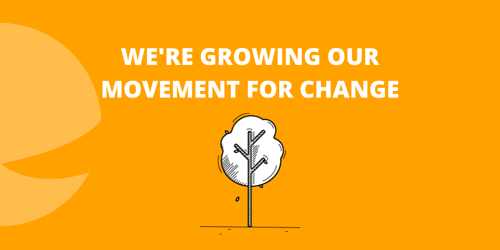 During Mental Health Awareness Week 2020, we were amazed by the online interest and engagement from people across Scotland. Everyone wanted to get talking and take action, and we saw that it's more important than ever that we stay connected and carry on talking about mental health during lockdown and beyond. 
We want to keep growing this online community and we would love for YOU to get involved. So to help everyone stay connected and talking about mental health we've created our Anti-Stigma Summer Sessions.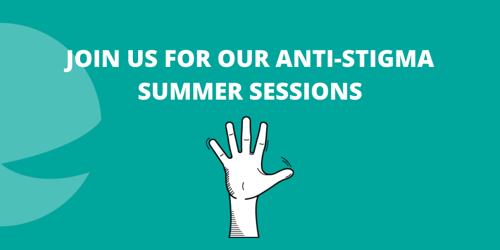 We will be putting on a series of online events and activities – with our volunteers and partners – to inspire you to join our movement and take action. From arts to poetry, community activism to crafts, there will be something for everyone. It will be an opportunity to connect with passionate individuals from all around the country and play your bit in making the community more mental-health-friendly. 
What's On?


The Wounded Healer - 28th October, 7pm
Join us on Wednesday 28th October at 7pm live on Twitter for a really exciting event on innovative ways to tackle mental health stigma in health and social care.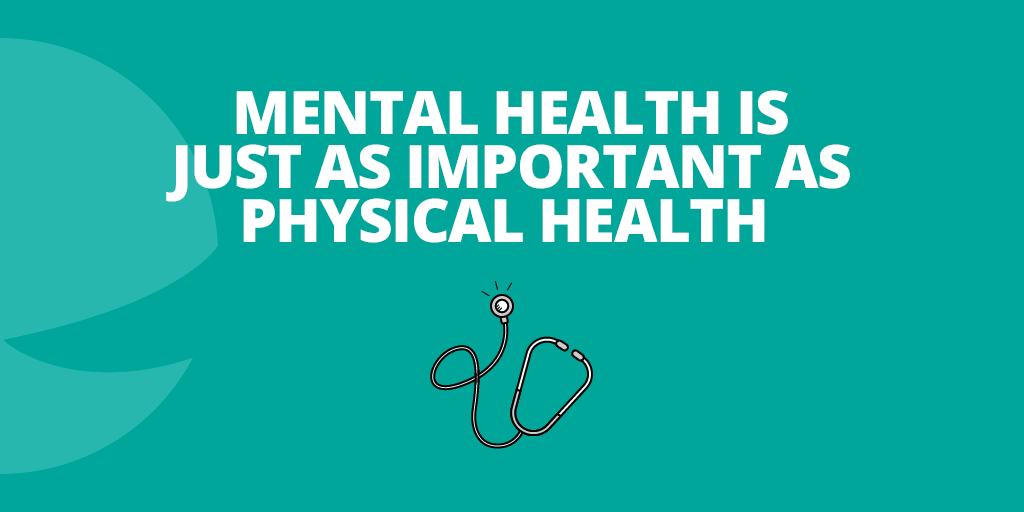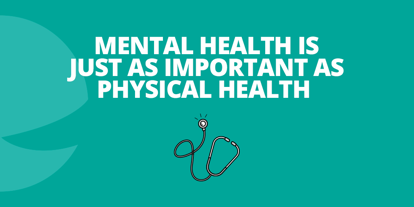 We'll be hearing the amazing story of 'The Wounded Healer' Dr Ahmed Hankir who will share how his experiences of trauma and mental health problems have influenced him as a doctor.
We are also delighted to be joined by mental health nursing lecturer Dan Warrender our Champion Dawn Getliffe and Tom Scott, our Health and Social Care Improvement Advisor.
You can find out more here and join us live on Twitter @seemescotland at 7pm, on October 28th. 
Pass the Parcel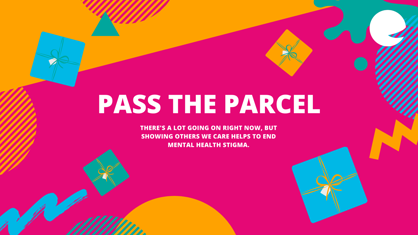 With everything that's been going on recently it's more important than ever that we stay connected and carry on talking about our mental health. So to help we're using our #SeeMePassTheParcel campaign to connect people, and show that's okay to reach out and talk abut how we are feeling.
Along with our volunteer Dawn we've created #SeeMePassTheParcel, which is a pack that includes items and matertials to start conversations around mental health and challenge stigma. You'll be able to download resources below to include in your parcel, as well as gift ideas of your own.
Find out more and get involved: https://bit.ly/33YzqzZ
What's in the planning?
Watching Differently - Date TBC
Our youth champion Sally is chatting through the different ways she has tried to get people to change their minds when it comes to mental health problems. She will be showing different things she created as part of her degree at the Glasgow School of Art, included an augmented reality experience on anxiety, an animation on men's mental health, creating outwork out of sound waves using the experiences of young people struggling with their mental health, and using machine learning to create medication packaging.
She will also be chatting with our communications manager Nick about her own mental health, and how that has inspired her work.
What's Happened?
All, Entire, Whole - 9th September
As part of our Anti-Stigma Summer Sessions we've been sharing work from a range of artists to encourage dialogue to end mental health stigma and discrimination. The project 'All, Entire, Whole' was created by our champion Sean McGugan, along with support from us.
The project will tell stories and share work from a number of artists aiming to change the way people think about mental health to help start conversations and challenge stigma.
'All, Entire, Whole' features artists Chris Sav, Deborah Wickham, Elizabeth Ellis-Huddleston, Lea Molinier, Marie-Claire Lacey, Morin Fenton, Sasha Saben Callaghan.
On Wednesday 9th September we spoke to artists Ellie and Chris talk about their work, and how they hope to change the way people thinkabout mental health. You can watch the chat here and join in the discussion: https://bit.ly/3bEYVYI
We're also be sharing an 'artist a day' across our social media channels, so be sure to check in and learn more about the featured artists and their work.
The Voice Behind the Scenes - 27th August
Watch a collection of short talks with the writers behind 'The Voice Behind the Picture' monologues which were created through a project by In Motion Theatre Company in partnership with See Me Scotland.
Filmed in lockdown from their homes, the writers give some insight into what prompted them to write their monologues and the impact they hope they will have in challenging mental health stigma. Watch the film below.
You can watch the original collection of monologues here: www.mhfestival.com/2020/663-the-voice-behind-the-picture.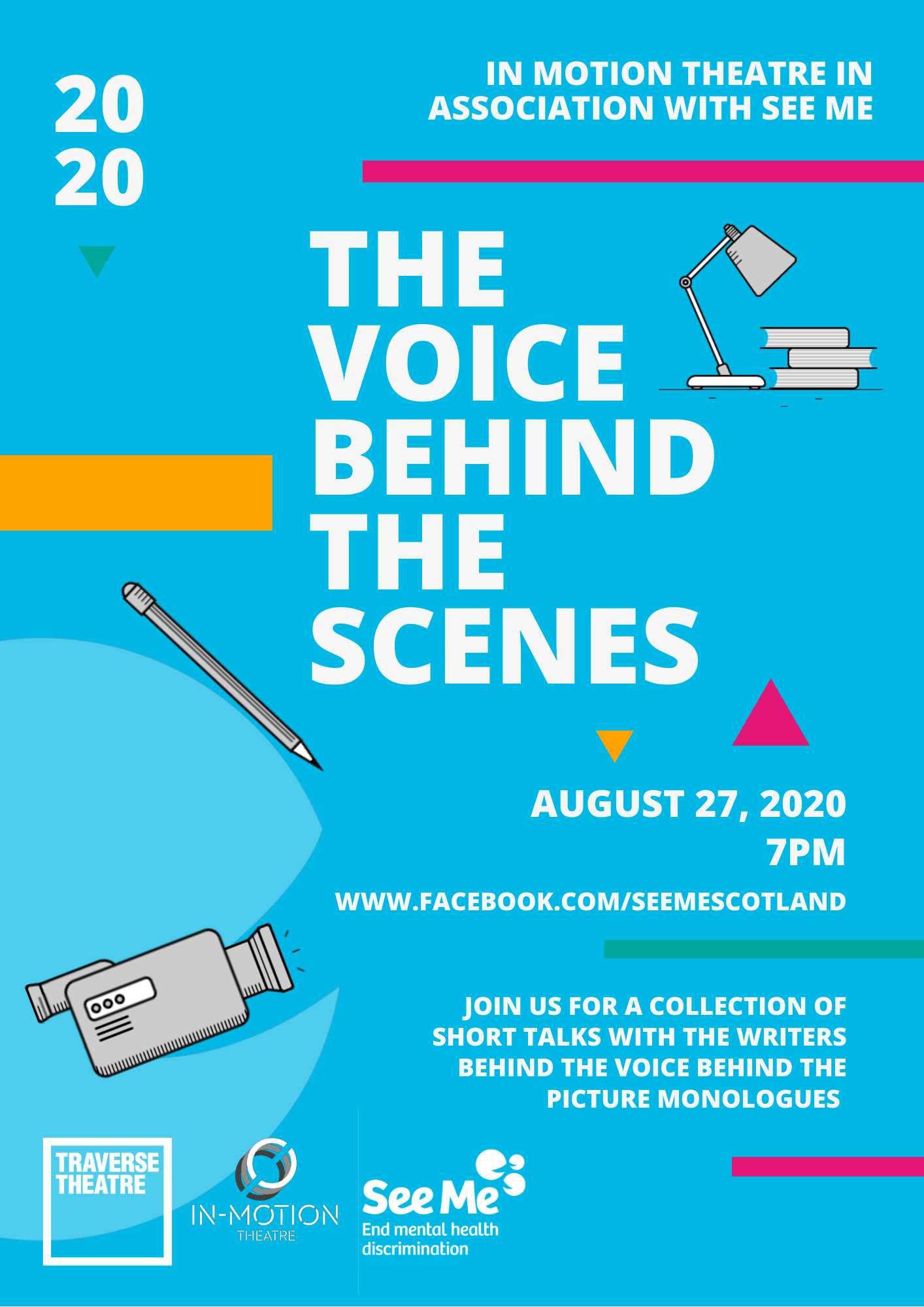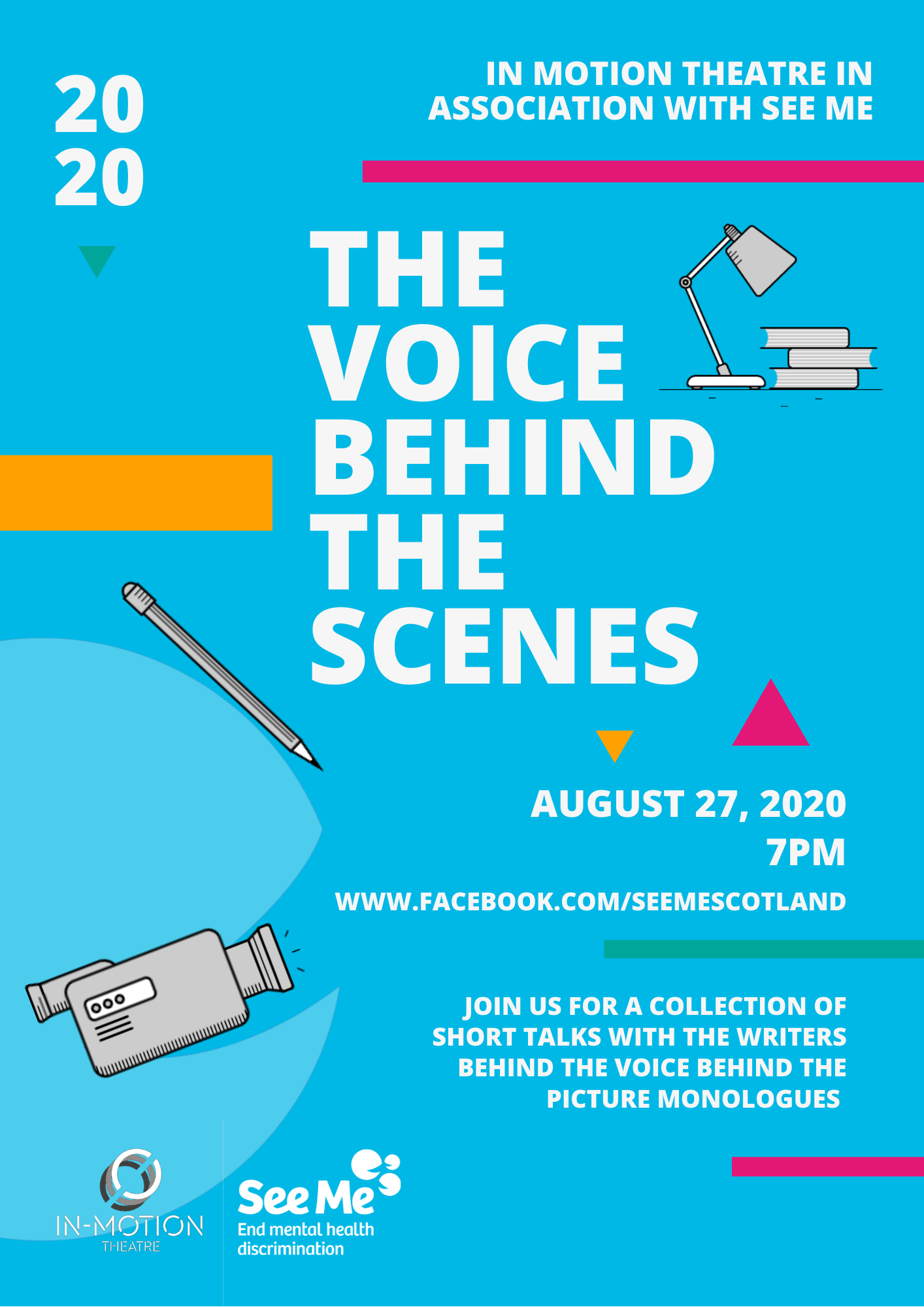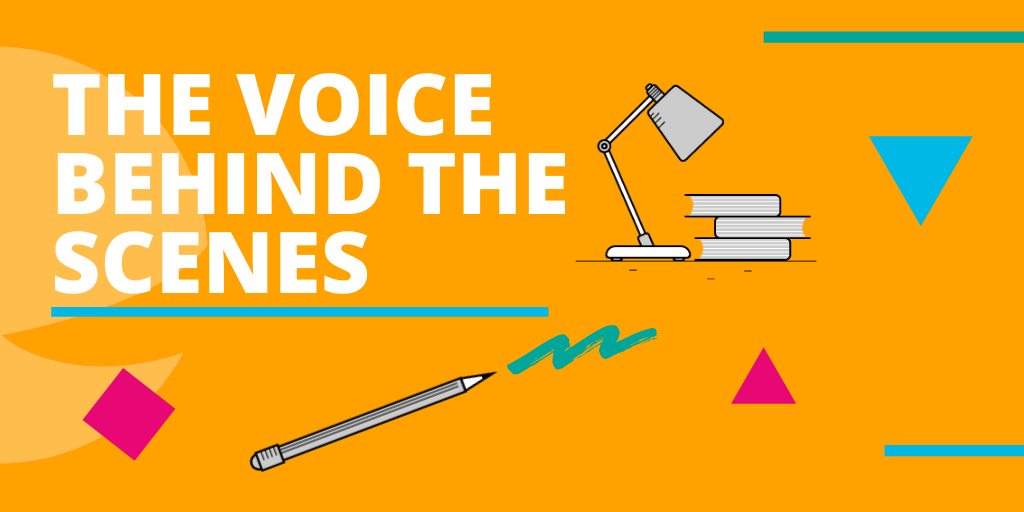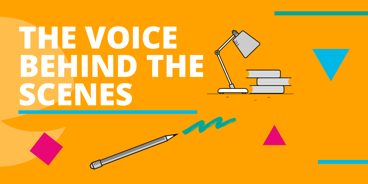 Meaningful Movies and Wise Words - 13th August
See Me volunteers Susan, Gemma, Liam, Bridget and Chik talked about the books and films that have been most significant to them, and how they connect to challenging mental health stigma.
Whether you get some inspiration for the next book you read, or gain a new perspective on your favourite film, you can still join the conversation and share the books and films that have made an impact on you.
Watch the event and join in here: https://www.facebook.com/seemescotland.
More Than My Mental Health: Poetry Edition - August 5th
We had a great time with our volunteers sharing and discussing poetry, pets and our lives during lockdown.
The See Me volunteers are a talented bunch and are great at expressing themselves. All our volunteers have lived experience of mental health problems, but they are so much more than that.
It was a lively and entertaining hour where we explored the importance of seeing an entire individual and how this helps challenge the stigma around mental health problems.
Let's Keep Creating Stigma Free Communities - July 29th
On 29th July we held an online workshop for people interested in tackling mental health stigma and discrimination in their community.
In this session our Social Movement team gave people tips, advice and a looked at what other people have done in their communities to help spark ideas. 
We'll be running these regularly over the next few months, so make sure to check in here for information on the next one. 
It's Okay to Talk - July 23rd
On July 23rd we held an event with Feniks, It's Okay to Talk, to launch Mental Health & Suicides Among Polish Men in Scotland, 2020, a report looking at what is contributing to the suicide rate, and what we can do to stop it.
The report found Polish men living in Scotland don't feel like they can talk about their feelings, which can lead to them turning to suicide. The report also highlights some actions that could be taken to help change the current situation. If you think that you could be involved in the change, then let us know by emailing: toni.groundwater@seemescotland.org
You can find out more and read the full report here.
Other Tongues - July 9th
Our supporter Spencer Mason read passages from his debut book, 'Other Tongues', and took part in a discussion about his experiences of schizoaffective disorder with See Me Communications Manager, Nick.
This event explored the power of sharing your story about mental illness, the importance of asking 'are you okay' and a life beyond the labels.
Although the live stream has finished, you can still watch it back to hear his story, take part in a discussion and be inspired to take action to challenge mental health stigma.
You can watch here.
Alternatively you can listen to the whole chat in our Anti Stigma Summer Session Podcast Special, released on Thursday 16th. Subscribe here.
The Voice Behind the Picture - July 2nd 
We were delighted to be work with In Motion Theatre to inspire short monologues and stories and tackle mental health stigma and discrimination.
Fourteen writers have been working with playwright and creative director of In Motion Theatre Company Lisa Nicoll to create stories and monologues around the theme 'The Voice Behind The Picture'. Over a series of live and recorded workshops and one to one development, these writers have each created 5 minute stories which take us beyond what people see, hear or take at face value.
Watch them here!
We want to end mental health stigma and discrimination by working with a movement of people across the country who are taking action. Get everything you need to start your journey to making a difference here.
Get Resources