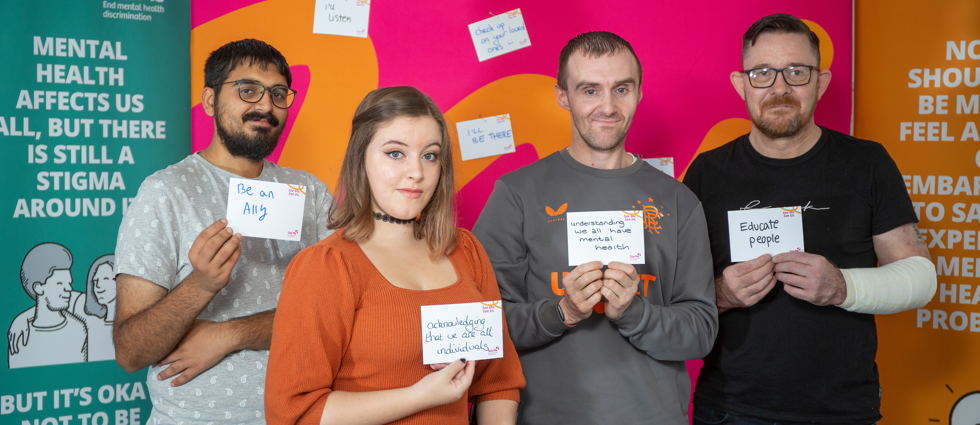 Volunteer with us!
We're currently recruiting new volunteers to join us in our work to tackle mental health stigma and discrimination.
Current volunteering opportunities
We've now closed applications for new volunteers.
If you've applied, please keep reading on to learn the next steps of the process and key dates.
What is mental health stigma and discrimination?
Stigma
"The negative attitudes or beliefs based on a preconception, misunderstanding or fear of mental health"
An example might be someone incorrectly thinking that all people with mental health problems are dangerous because they have seen it in a film or in the news.
Discrimination
"When a person performs an action, whether intentional or unintentional, that creates barriers and inequality for people with lived experience of mental health problems."
An example of this is not inviting someone for a job interview based on disclosure of a mental health problem.
What's it like to volunteer with See Me?
Current See Me volunteers have created some short films to give you a little bit more information about what it's like to volunteer with See Me. You can view these on YouTube, or check out Suzanne's story below...
Volunteer recruitment timelines
Feeling inspired? Here's a note of important dates for this round of recruitment…
Deadline for applications: Wednesday 25 October at 5pm.


Informal discussions take place: Wednesday 1 November at 6pm - 8pm OR Friday 3 November at 10am - 12pm.


Proposed date for induction training: Thursday 16 November at 10am - 4pm, in-person (location TBC).  
How to apply
We need to know that being a See Me volunteer is right for you.
The recruitment process will give you an opportunity to learn more about the role and decide whether it is the type of opportunity you are looking for.
The first stage involves you completing and returning a short application form – we need to receive this by Wednesday 25 October at 5pm.
Please take time to read the role description and complete the application form as fully as you can.
We are open to accepting applications from anyone aged 16 or over living in Scotland. 
PLEASE NOTE:
There is a limit to the number of volunteers we can recruit and support at any one time. If we receive more applications than we are able to accept during this phase of recruitment, we will focus on trying to ensure we have a good representation of different communities, backgrounds and experiences that are not currently represented (or are underrepresented) within our pool of existing volunteers.
If writing an application form is not the right thing for you, then no problem!
You can film yourself answering the question or record a voice note on your phone.
Send the video or voice note to our lived experience participation officer Debbie via WhatsApp on 07712 544 597.
If neither option is good for you then please get in touch with us via the email below to discuss other options.
Applications are now closed - thank you for your interest.
Take action against stigma
Find tools and resources to help you take action against mental health stigma and discrimination.
The See Us movement