See Me Champions Cycle 45 Miles to Raise Mental Health Awareness
Posted by See Me, 7 September 2017
On Saturday 10th September See Me Champions Des MacMillan, Donna Wilson and Gary Macdonald will take part in Pedal for Scotland, cycling 45 miles from Glasgow to Edinburgh to raise awareness of mental health stigma and discrimination.
Des, Donna and Gary hope that the event, which attracts thousands of cyclists and spectators each year, will be a great opportunity to start conversations and get people talking about mental health.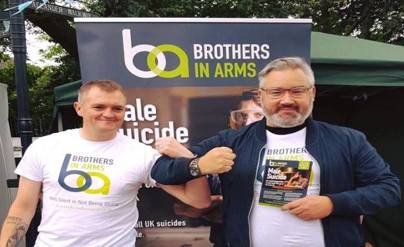 Why are you doing the cycle?
Des: I am doing the cycle to raise awareness for See Me Scotland and to get chatting to anyone who will listen.
Gary: To raise awareness of the See Me organisation and continue to work to end stigma and discrimination towards mental ill health. This event attracts thousands of cyclists and spectators so will be a great opportunity to engage with many people and share the message. 
Where did the idea come from?
Des: The idea came from a chat Gary and I had in a Wetherspoons in Ayr.
Gary: We have really enjoyed taking part in pass the badge days with other champions but wanted to combine this with a challenge. Also I want to connect the benefits that physical health has on your mental health. We had thought about climbing Ben Nevis or walking the West Highland Way whilst passing the badge but cycling was something we all enjoy and the event will give us more exposure in our limited edition cycle tops. 
How are you feeling about it?
Gary: I did it 8 years ago so know what to expect. Last time I did it alone and listened to music all the way to keep me going. This time I have two good friends who I have met by joining See Me so I'm really looking forward to the banter and I am sure we will all be helping each other at different parts of the ride.
Des: I'm feeling good about the cycle; I'm looking forward to the challenge and the day in general.

Do you cycle much?
Gary: Not as much as  I used to but want to continue after the event and get back to cycling weekly. I may even try the 100 mile route next year. 
Des: I cycle a bit. I used to cycle 14 miles a day to work but now it's a case of when it's dry. I have completed PFS twice.
Why do you think it is important for people to get talking about mental health?
Gary: Because talking breaks down barriers and makes you realise that you are not alone. 
Des: I think it's so important to get people talking as talking is healthy. Everyone would have trained to do the cycle so we can ask about mental health.
Will you be doing anything on the cycle to raise awareness of stigma and discrimination?
Gary: We will be passing the badge and talking to as many people as possible on route and collecting selfies along with blogging our day on social media and sharing pictures and videos. We have other champions turning out to support us and want them to wear their See Me t shirts and badge pass also. 
Des: We will be chatting all the way round and passing out badges during and after to make the conversations flow.
Team See Me will rock it!