Employers look to the future with Peer Learning Network session
Posted by See Me, 26 October 2022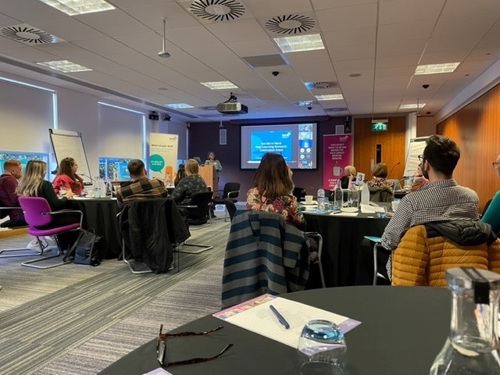 Yesterday, Tuesday 25 October, employers from across the country got together to reflect on how far we've come in the movement to end mental health stigma and discrimination in Scotland's workplaces, and think ahead towards what more needs to be done.
Employers from See Me's Peer Learning Network assembled in Edinburgh for the event, which was co-delivered by See Me volunteers. Thirty participants joined in person and online.
The Peer Learning Network is open to employers taking part in the See Me in Work programme. The network, which meets quarterly, offers a safe, facilitated space for employers actively engaged in the programme to share their challenges and good practice around what works in tackling mental health stigma and discrimination in the workplace.
This was the 17th network session since its launch in 2018, and the first session to be delivered in person since January 2020.
Opportunity to celebrate
As October marks 20 years of See Me and the wider movement to end mental health stigma and discrimination, the network session provided an opportunity for members to celebrate as well as learn and think ahead about their own anti-stigma work.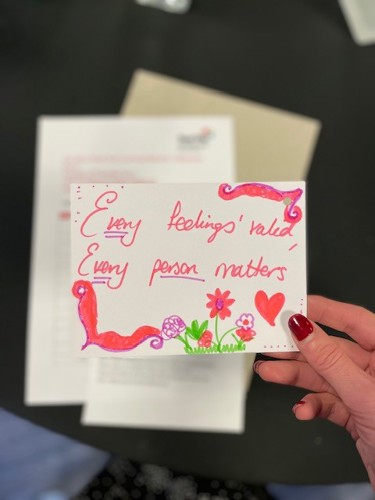 See Me improvement advisor Rachel Bottomley, who leads the network, said: "The October Peer Learning Network was a fantastic opportunity for our members to get together to celebrate all the work we've done together so far, and look forward at what we still need to do to eradicate mental health stigma in the workplace.
"We invited our colleagues from SAMH and the Mental Health Foundation to be involved and delivered a hybrid event that allowed as many of our programme members as possible to attend.
"Our volunteers were there throughout the day to share their own experiences of mental health stigma and work, and help attendees understand the positive change they can make through the See Me in Work programme."
After hearing from speakers from both See Me and the Mental Health Foundation on how far we've come, as well as how much we've still to do, See Me volunteers delivered a Six Wee Wordies workshop.
Created by See Me volunteer, Bridget Dickson, Six Wee Wordies explores the role of writing as an accessible medium for talking about mental health and stigma with a limit of just six words per exercise, and has proven to be a real hit with employers.
Sharing good practice
The Peer Learning Network is one of the benefits of participating in the See Me in Work programme, creating connections for employers to share good practice. Here's what some of the network members have said are the benefits of being a part of the network.
"Provides a support network and the building blocks to get started, and continues to support with initiatives and changes."
"It provides reassurance that my organisation is not alone in their challenges and instils confidence of the action taken to reduce stigma and support staff."
See Me in Work helps employers to tackle mental health stigma and discrimination in their organisation and create a better workplace for all their employees.
The programme, which is completely free and available online through the See Me in Work Portal, take employers through a self-assessment of their organisation, gets the views of employees, creates an improvement plan, and makes real sustained changes.
If you'd like to find out more about See Me in Work, we're hosting a webinar on 7 November, where you can come along and find out more about what the programme has to offer.
Sign up to attend through Eventbrite.
Find out how the programme can benefit your workplace.