Jenn's Story
Jenn shares why she's supporting the movement to end mental health stigma.
Jenn's Story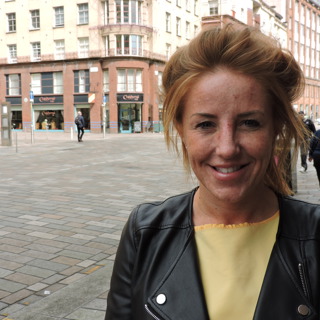 Raising awareness of mental health, the issues people face, and stigma and discrimination, felt like a really important thing for me to do. After my brother took his own life in 2017, we found out that he had been quite heavily involved in See Me, and he had done a lot of spoken word pieces, and a couple of other things for different campaigns.
We had no idea what was going on behind the scenes – that while he was struggling himself, he was trying to help other people.
After he passed away, it felt like a fitting tribute to continue what he'd been doing.
Over the last few years, I've been involved with See Me, SAMH, and the Lived Experience Panel, as well as a few events and activities I've organised on my own in his memory.
Since my brother's death, we've gone on to make a documentary, which was shown on the BBC, and won a BAFTA and a Mind Media Award. We do a lot of outreach work in universities, and we've been to a couple of businesses as well. The work I do is all about getting people to start talking. Just asking the question – are you okay? A simple question like that can make a massive difference.
While there is more awareness of mental health now, stigma still exists – and I think a lot of people don't even realise it.
For males in particular, the stigma is still there. My brother was 21 when he took his own life, and that age is really difficult. It is harder for people from different backgrounds, different age groups, different communities – and everyone needs to know it's okay to speak up and ask for help.
I have had mental health struggles of my own in the past – and it wasn't something I spoke about. Looking back now, I wish I had. I think if I'd spoken up earlier, things would never have got as bad as they did.
It's really important that we get as many people as possible to back the campaign to end mental health stigma and discrimination. You can't do it on your own. It's like mental health in itself – you need someone there to help you. If everybody comes together, it will make things a lot easier.
Campaigning and sharing our story is almost a therapeutic thing for me – and it's carrying on a legacy that I think he would have been very proud of, and my mum and dad are very proud of me as well for doing it. I feel like I've mad a difference somewhere along the line.
Back to stories