Volunteers
Volunteers are a vital part of the movement. By volunteering you will be directly challenging stigma and discrimination.
Our Volunteers
At the heart of See Me we support a growing group of volunteers with lived experience of mental health problems, who are taking action to change behaviours across Scotland. 
Volunteers are a vital part of the See Us movement.
Their knowledge and passion, together with the strength of the wider social movement will help deliver the change we want to see, so whenever any of us experiences tough times with our mental health, we can be confident that recovery is possible and we can live happy and fulfilled lives.
Our volunteers all have lived experience of mental health and are passionate about making a difference in their communities.
See Me, See You, See Us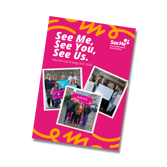 Our volunteering strategy - See Me, See You, See Us - outlines how we'll develop our volunteering programme over a five-year period.
The strategy includes information on the current volunteer programme, and our vision for the future.
Read our volunteering strategy
Volunteering with See Me
Volunteers who have experience with mental health problems are at the heart of our work and are involved in every aspect of what we do.
Our volunteers work with us in lots of different ways – from speaking at events to sharing their stories in the media, consulting on government policy to helping us build new resources.
Below, Liam and Kirsty share what volunteering with See Me has meant for them.
You can view more videos from our volunteers on YouTube.
Future volunteer recruitment
We will be recruiting for volunteers over the age of 18 later in the year – keep an eye on the See Me social channels for updates, or sign up to the See Us movement.
What See Me volunteers achieved in 2021
Volunteer Roles
As a See Me volunteer, you'll have opportunities to support our work, and tackle mental health stigma and discrimination, in a range of different ways. You can find out more about some of the roles and activities of our volunteers below.