Power of Okay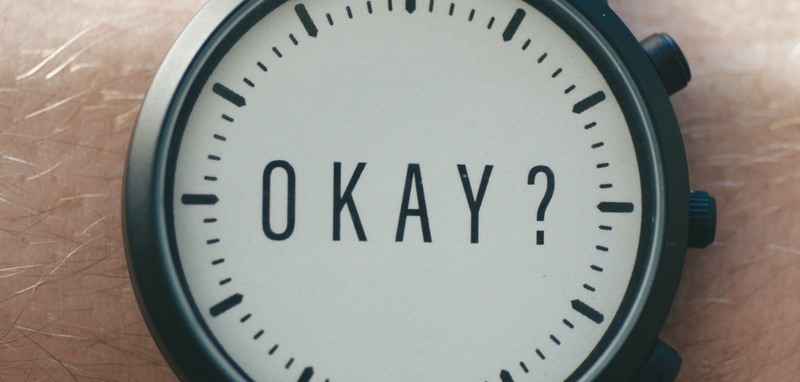 Support for anyone is a matter of encouraging and nurturing communication and discussion. Start by asking 'Are you okay?'
Power of Okay - Part 2 is now 'live'
When someone asks 'are you okay?' and they say 'no' fear can take over.  What should I say?  What if I make things worse?  Our latest campaign builds on the success of Power Of Okay - part 1 and tackles these worries head on.  Because showing that you care can change someone's life.
Power of Okay - Part 1
See Me's award winning campaign about 'the power of okay' - has succeeded in getting people all over the world opening up conversations about mental health by asking the simple question 'Are you okay?'.  Watch the full version of Power of Okay - part 1.
(Warning: This video contains strong language).
Opening up to the Power of Okay
Mental health can be an intimidating subject. And the environment where it can be most intimidating and the most sensitive is the workplace.
We live in a world in which unjust stigma still exists, and often it is easy to take the path of least resistance within the workplace. Say nothing, hide the reality, try and carry on as normal.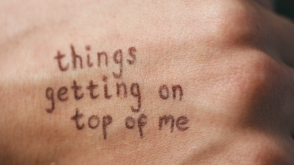 Now is the time to change. We believe there is a real appetite to end the perceived shame and stigma around the subject. We want to make it easier to talk about mental health and in doing so, improve attitudes and encourage people to seek help.
And this is really the point of us being there for each other and asking if we are okay. Mental health problems don't discriminate, they can happen to anyone, it doesn't matter what their status in a company. Changing the culture around mental health will benefit everyone. Even if you have never experienced a mental health problem, all our lives are full of ups and down. If you reach a point where your mental health is suffering, how much better would it be to have an open, friendly workplace where you feel safe to speak about how you feel?
We also recognise barriers to speaking out. The fear of losing your job, of being moved to another post, missing promotion, being seen as different, further isolation, questioning of ability and worries over perception.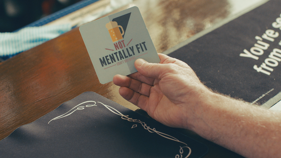 Equally there's the guilt and low self-esteem issues – fear of letting others down, I'm not doing a good enough job, I can't do anything right.
Be part of the Power of Okay
There's so much more to see and read about the Power of Okay.  

We're now on  Tumblr where you can see the latest news and pictures about the campaign.  It's an ideal platform to share with your friends and colleagues.
Click here to find out more.

We're  also on the blog site Medium where you can join the conversation directly.  We'd love to hear about your experience of what has helped or been a barrier to you in work.  Click here to find out what others are saying and feel free to share your story with us.  
Join the conversation today and let's get people everywhere talking about mental health in work. #powerofokay
Why talking about mental health is so important
There are lots of reasons to speak out about your mental health- whether you have concerns at work, at home, when in contact with healthcare professionals.
of people will experience a mental health problem at any given time.

of people with mental health problems tell us that stigma and discrimination is harder to deal with than a mental health diagnosis itself.

of people thought that someone with a mental health problem in work would be unlikely to disclose it for fear of losing their job  (YouGov Poll - April 2015).

of people felt that someone with a mental health problem would be unlikely to disclose for fear of being moved to another post or passed over for promotion (YouGov Poll April 2015).

of people thought that someone with a mental health problem would be unlikely to disclose it for fear of being discriminated against by colleagues (bullying, harassment, name calling, isolation) (YouGov Poll April 2015).
Insight about Power of Okay - Part 1 from Ian Greenhill
Here, we get an insight from Ian Greenhill - of award winning Production Company - Something Something who wrote and performed the poem based on his own thoughts:
"I wrote the poem from a stream-of-consciousness point of view. We wanted to try and show the normal everyday thoughts people struggling with their mental health have. To make the tone of voice sound familiar was a big thing for us and we didn't want it to be a list of 'things not to say' like quite a lot of mental health awareness campaigns seem to be. I personally think it's important to start the discussion about mental health and the simple start -off point of 'okay' seemed really powerful. Staying away from the happy/sad discussion was extremely important for us too as depression and other forms of mental illness are often judged on happy/sad. We wanted to move it away from that misconception and for people to think in terms of 'okayness' - if that's even a word!
The starting point for the campaign was to get people talking - We just want a discussion to be started rather than people being scared of saying the wrong thing and just not saying anything. If we all start out at that base level of human kindness, the world - and workplace would be a better place."
Find out more
Follow the conversation
Sign up to our newsletter or follow us across our social media to keep up to date with our movement for change.
Sign up to the newsletter