Walk THREE Miles in East Lothain
Posted by See Me, 10 September 2019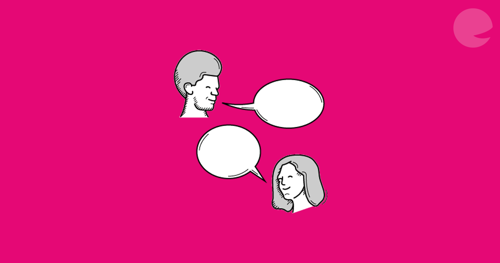 Our champion Emma is putting on her first Walk a Mile in East Lothian.
She wants to get the people out walking and talking about mental health. However this Walk a Mile has a difference, as people are invited to come down to the Archerfield Estate to Walk Three Miles.
The aim of the event, on Sunday 22nd of September, is to show that mental health can be a topic of everyday conversations, and we are all responsible for creating positive attitudes around it.
The Walk a Mile campaign was created by See Me with Chris McCullough Young, based on his walk around the edge of Scotland, where he spoke to everyone he met about mental health, to change attitudes one conversation at a time.
So far thousands of people have taken part in Walks across Scotland, bringing together health professionals, carers, people with lived experience of mental health problems, students, or anyone who cares about tackling mental health discrimination, to break down barriers as they walk a mile in each other's shoes.
Emma, 42, from Gullane said: "If mental health is part of everyday conversation then we will better understand how to look after ourselves and those around us and be able to help towards reflecting on our language or behaviour to help eradicate discrimination or stigma.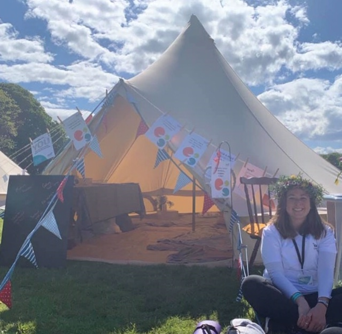 Emma at her See Me tent at the Detox Health and Beauty event at Archerfield in May
"I became a See Me Community Champion as I have my own experience of depression, anxiety and agoraphobia. I have often felt judged, discriminated against and misunderstood.  In the past I have felt unable to talk about the times I was struggling because I was worried about what people would think of me.
"As a Community Champion I hope that I can use my experience to open up conversations which help people to better understand mental health and help to challenge the stigma which exists one conversation at a time. Walk Three Miles is a relaxed event in a beautiful setting which provides space to start those conversations." 
Wendy Halliday, See Me director, said: "Mental health affects all of us, but there is still a stigma around it. To tackle this properly people need to understand that it is okay not to be okay.
"One of the best ways to change how people think and behave is to make mental health a topic in day to day conversation, rather than a taboo subject people don't want to talk about."
The Walk will begin at 9.30am at the entrance to the Archerfield Walled Garden.
Sign up to take part here https://www.eventbrite.com/e/walk-3-miles-tickets-66044323349