Thousands of Conversations Improve Mental Health
Posted by See Me, 15 December 2015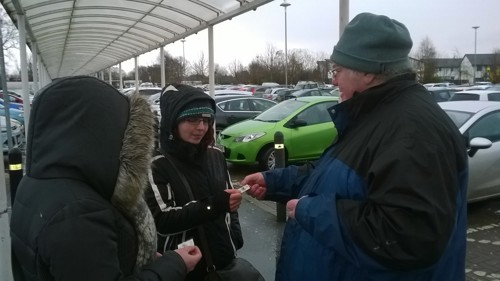 MENTAL health has been the talk of Dumfries and Galloway this December, as one local activist uses his experience of discrimination to change people's views.
Richard Monaghan has been sharing the story of his own difficulties with depression with people all over the county, in the streets, outside supermarkets, even in a toffee shop.
Working with us Mr Monaghan has had over 1000 conversations about his mental health, and handed out badges to everyone he speaks to.
But not content to just change the minds of the people he meets. He asks people to share his message, using the badge to do it.
People wear the badge for a day and then pass it on to someone else to wear for the next 24 hours. When people pass it on they share two facts, that one in four people will experience some form of mental illness in their lifetime and of those who do, nine out of ten report experiencing stigma and discrimination.
Over the weekend Richard, along with staff and volunteers from See Me, handed out 1000 badges in Dumfries and Moffat.
The 62 year old from Moffat was inspired to change the way people think and behave, after he experienced a breakdown. Before that he worked as a senior director in the rail industry, in charge of 2000 employees across two companies.
When he became unwell his life changed. He said: "Before I had a breakdown I was in charge of lots of staff at my work, owned three houses and a hotel in Kent.
"When I was a senior director I was constantly being contacted, it was nonstop, 18 hours a day, people always wanting to contact me.
"As soon as it was revealed I had a breakdown all communication with me stopped. It was silent.
"People avoided having conversations with me, it was quite dreadful."
After a seven year recovery Richard joined with See Me and became a Community Champion, trained to lead in tackling stigma in his community.
He knew that the best way to do that was to get out and speak to people and show that anyone can experience a mental health problem.
However he wanted his message to spread further than to just the people he spoke to. So he developed the Pass the Badge campaign.
He said: "At first I found there was reluctance from people to take the badges. So I said to them I only wanted them to keep the badges for 24 hours then hand it on to someone else.
"They asked who they were supposed to give the badge to. I said they can give it to whoever they want, but whoever it is they have to tell them about mental health, stigma and the story I tell them.
"I also ask them if they know anyone with a mental health problem. Normally they have. Often I hear that people are embarrassed to speak about it, or to go and get help.
"When I first told people who I was and what happened people were uneasy and seemed embarrassed. It was all about stigma, people didn't want to talk about it, but after doing this a lot I'm finding I can have normal conversations."
Rebekah Moore, who runs the See Me Community Champions programme, said: "Since training as a champion Richard has been making a massive impact in his local community.
"He has seen attitudes shift due to his honest, open and simple approach to tackling stigma – getting people to talk. We are very proud to have him as one of our Champions, he is truly an inspiration to us all."