The Voice Behind the Picture
Posted by See Me, 17 June 2020
We're delighted to be working with In Motion Theatre to inspire short monologues and stories and tackle mental health stigma and discrimination.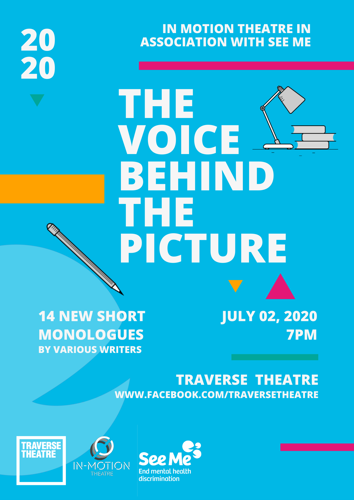 Fourteen writers have been working with playwright and creative director of In Motion Theatre Company Lisa Nicoll to create stories and monologues around the theme 'The Voice Behind The Picture'. Over a series of live and recorded workshops and one to one development, these writers have each created 5 minute stories which take us beyond what people see, hear or take at face value.
These pieces will be premiered and  streamed on Thursday 2nd July 2020 at 7pm via The Traverse Theatre Facebook page. 
Please also join us for a post-show discussion – to sign up for this please email: maeve.grindall@seemescotland.org 
Writers involved are; Stephen Arthur, Lesley Capitanchik, Grant Christie, Lindsay Craik, Lynsey Duffy,  Arron Greechan,  Angela McCrimmon, Abi Pirani,  Grant Redmond, Leah Rossvel, Nora Smyth, Dianne Stewart, Nicola Todd and Chris Tait.
The short plays will be performed by; Stephen Arthur,  Karen Bartke, Daniel Cameron, Angela Cassidy,  George Docherty, Cameron Fulton, Rachael Keillor, Mary Gapinski,  Colin Little, , Andrew McIntosh, Lorna May, Rachel Ogilvy, Josh Whitelaw and Rhiannon Wyn Thompson. 
If you miss the live link the content will be available at www.inmotiontc.co.uk from the 3rd of July.
More About In Motion Theatre
In Motion Theatre are a new writing theatre company who write and tour their own work and support and nurture the writing of others. They will be touring their new play 'Other Side of The River' by Lisa Nicoll in association with Paisley Arts Centre and Future Paisley in 2021 which is inspired by Ferguslie Park in Paisley and tells the fictional  story of the truth behind a community that has been tarred by the media.
For more info email info@inmotiontc.co.uk
Our Social Support Movement Officer Maeve said: "We are delighted to partner with In Motion Theatre. The project has created a real opportunity to open up conversations about mental health in a way that is engaging and meaningful for the participants and audiences. Lisa Nicoll has brought her considerable experience and passion to this project to develop a unique programme of support enabling the writers involved with the project to fully realise their ideas. We are so excited to share the incredible collection of monologues as part of the new writing virtual programme from the Traverse Theatre.
"It is fascinating to see the ways in which the emerging writers involved with this project have interpreted the theme of 'The Voice Behind the Picture'; some are funny, some are poignant, some are heart-breaking. Many are capturing a snapshot of the strange world of Covid-19 and lockdown, a situation that has created and exacerbated mental health challenges for many people. We know that bringing  people together and giving people insight into different mental health experiences, or a point of connection when they have experiences something similar can begin the conversations and actions that tackle mental health stigma and discrimination and we hope that audience members will join us for the audience discussion on 2nd July."