The tools to tackle mental health stigma in health and social care
Posted by See Me, 4 November 2021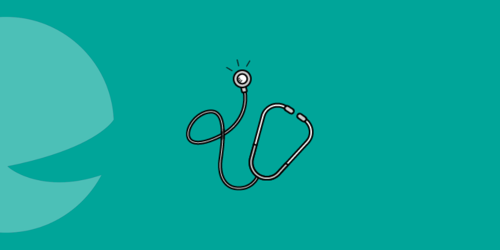 New work is being done to prevent people who are struggling with their mental health from facing stigma and discrimination when trying to get help and support.
Our latest research has found that 15 per cent of people with experience of a mental health problem had experienced stigma in GP practices, and one in 10 within NHS services.
To change this, See Me has been working with people who have used healthcare services, and those who work in them, to create free, downloadable resources to help improve practice. These include training, a video library and guidance on policy.
It has been launched alongside See Me's new campaign, See Us, which encourages everyone in Scotland to take action to end mental health stigma and discrimination. See Me wants to see health and social care professionals becoming part of the See Us movement, to ensure that people are treated fairly when they're struggling.
Stigma and discrimination within healthcare still have an impact on people's access to and experience of healthcare services. People with mental health problems endure poorer overall health, shorter life expectancy and lower quality of life. Some have experienced feeling judged, dismissed or labelled because of their diagnosis, impacting recovery and discouraging people from asking for support in the future.
Angela, from Fife, who lives with borderline personality disorder, said: "I was in hospital at one point – I think I'd been in there for six months. I have a diagnosis of borderline personality disorder, which isn't always taken seriously. One day, one of the nurses came up beside me and whispered, 'You shouldn't be in here; you're not sick like the rest.'
"That had a profound effect for years to come. It felt like I wasn't a person and nobody cared. It felt as if the medical professionals thought I was putting it on. I struggled with that for a long time.
"Recently though, I had a different kind of experience in a visit to my ophthalmologist. Not long before, I'd started on a new antidepressant. The medication was having a detrimental effect on my eyes, so I asked the ophthalmologist if I should stop taking it… and he said, 'No, Angela, your mental health is extremely important.' I thought it was amazing he'd taken time to consider my mental health, rather than just my eyes."
The video library includes people who have used services, as well as those who have worked in them. In one video, Jonathan, a community pharmacist, said: " As a sort of generalist in the community, I think there is quite often nervousness there about, 'Well, where do I fit with this?' What I've learnt is that quite often I am the person seeing the patient the most. They'll maybe have even a daily prescription.
"So your role is to be part of their network of safe places – part of their network of people they know; that care about how they're doing. It comes back to that simple thing about displaying human kindness and interest. I may not understand all the complexities of their condition, but I can still be there for them."
Tom Scott, See Me health and social care improvement adviser, said: "Compassionate, person-centred care has arguably never been more vital in making sure people get the right help and support when they struggle with their mental health, and aren't judged, dismissed or labelled because of their diagnosis.
"Recovery should be real and achievable for everyone. And professionals working in all areas of healthcare can play their part, from nurses to pharmacists, managers to administrators."
You can access the tools and resources you need to make change – including those for the health and social care sector – at seemescotland.org/SeeUs.