Talking COVID-19 and Kindness with Wendy Halliday
Posted by See Me, 26 May 2020
Right now we're living through a time where more people than ever before will be struggling with their mental health. People with pre-existing mental heath conditions will still be struggling, maybe worse than before, and people who have never had mental health challenges before may be finding things difficult now.
Many of us have had to take time to adjust to new way of living and working, which isn't easy, but we can all do our part to encourage people to talk openly about mental health, tackle stigma and provide support.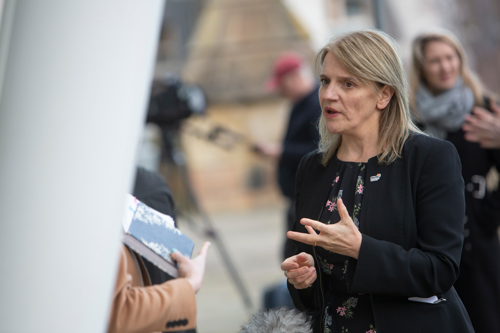 So for Mental Health Awareness week our director Wendy spoke to Lucy Mulvagh at The Alliance about what we're doing to tackle mental health stigma, COVID-19 and kindness. You can find the link to the full podcast below.
How are See Me, the team and wider group of See Me volunteers coping so far with COVID-19?  
We left the office in March unsure about what we were going into, but the team have done amazingly well to stay resilient and focused. They've shown incredible  flexibility and done really well at balancing their mental health and wellbeing, their family and work life, and I'm really proud of what we've been able to achieve.
At the heart of See Me we have both youth and adult volunteers who all have lived experience of mental health problems, and we knew that this might be a difficult time for them. Some have had to take a step back to pay attention to and look after their own mental health, which we fully encourage and support, but some have found that they feel able and have time to do more, which we're really appreciative of.
How has it been continuing to engage with and support the army of See Me volunteers?
Our Social Movement and Education and Young People's team have done an amazing job at having regular catch ups with volunteers, including phone check-ins. We also have a weekly mail out that goes out to volunteers with updates for them, as well as what opportunities there are to get involved with that we have going on, like activities for Mental Health Awareness Week. We're encouraging them to share with us what they're doing during this time, and our focus has very much been on supporting them to take action and challenge stigma in ways that are important and doable for them during lockdown.
We've also adjusted the way we're engaging with volunteers and have set up a new Facebook group to encourage them to link in and be active. For our young volunteers we have youth workers, who were former volunteers, and they have been engaging youth champions and coordinating activity and hosting fun activities like quizzes. They have been looking into how they can lead on creating more content  for See Me, on areas of stigma and discrimination they really care about.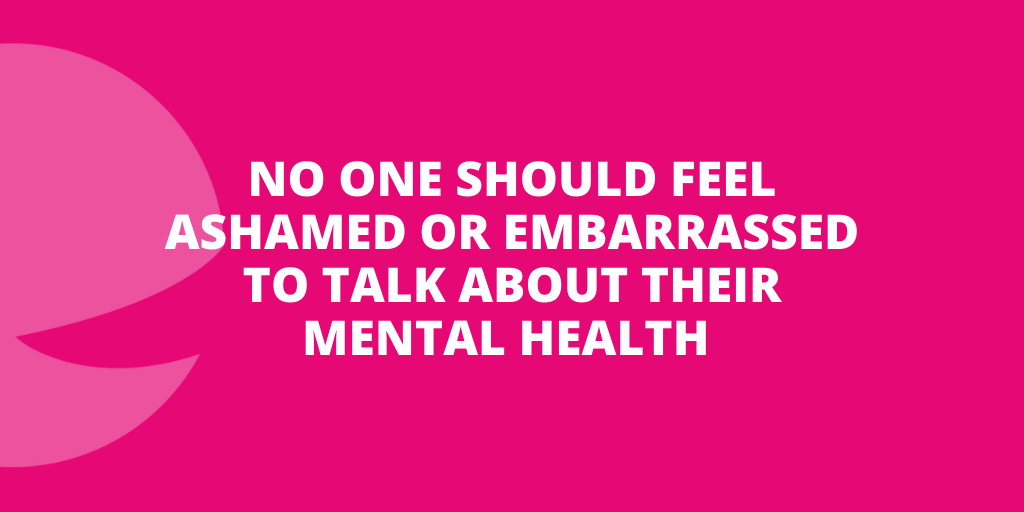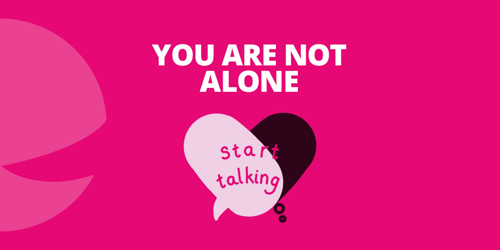 See Me is working on several different things at the moment in relation to COVID-19, including Pass the Badge and Feels FM. Can you tell us a bit more about some of this work that you and the team are doing?
Initially we revised our planning to focus on where we can add value and focus to mental health stigma and discrimination in the current climate.
We've also been looking at what might be needed when lockdown restrictions start to ease up, and what might be required in the long term.
It was very quickly realised that mental health was being discussed much more than it was before, which is great. There's a lot of really helpful  information on wellbeing, and how and where to get support, so we quickly reviewed that and focused on the things we could add value to, having a focus on stigma in the current climate. We realised that for some people  this might be the first time they're experiencing a mental health problem, and that those with existing mental health issues might be struggling more than before. We also realised that there was growing  anxiety around people being unable to get the support they need and wanted to encourage people to look out for each other, and give them the tools to have conversations about mental health and encourage them to seek support when they needed it.
We know that staying connected really helps, so we used our Pass the Badge campaign to connect people up and get them talking about mental health,
The campaign involves visiting the Pass the Badge website, to upload a photo showing how you are right now to get the digital badge put on it and then sharing on social media, using #PassTheBadge, to join in a conversation on our mental health and how we're feeling. Then tag others so they can get involved. So far we've had 593 people get involved on Twitter alone, and you can still involved now.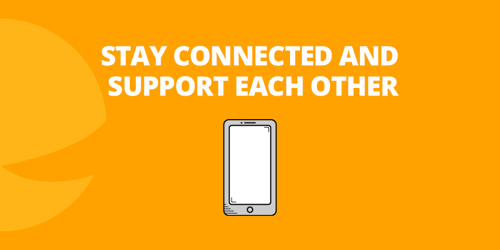 We've also been focusing on our key messaging and how our resources can help people start conversations about mental health and reach out to others during this time.
For example, you might be worried that someone you care about is struggling with their mental health due to the current situation, but you don't know how to talk to them. So to help you could use our Communities Can pack for our Top Tips for Talking About Mental Health, or our What's On Your Mind Card. You can find links to all our messages and resources on the resources section of our website.
There is also a link on our home page to a wide variety of help and support related to COVID and mental health.
We've been working with the Scottish Ambulance Service on supporting health care staff to speak about their mental health, give tips on looking out for colleagues and helping managers with tools like Lets Chat, to have helpful conversations. We also created an animation which they are sharing internally to start conversations at this difficult time.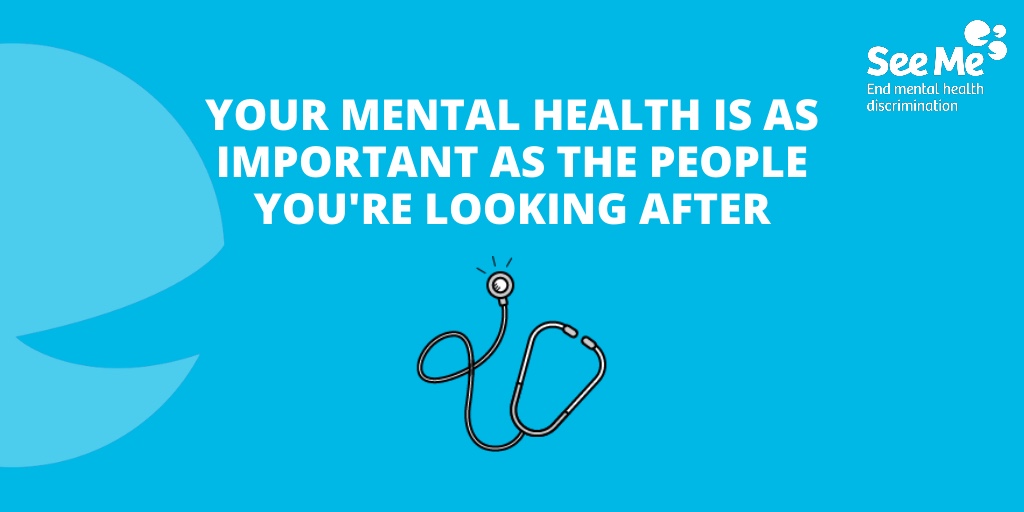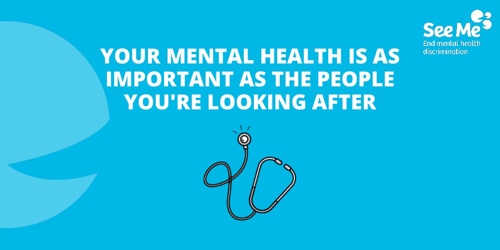 And of course there's the other work that See Me does to fund and help build capacity of partners, which has been continuing during COVID-19. How's that going?
We've been really encouraged by the continued focus in many of our partnerships. Our partners Stigma Free Lanarkshire have been developing a local campaign to highlight stigma and encouraging people across Lanarkshire to speak out and seek help. We've also been focusing on intersectional work as we know that there are  particular populations where mental health stigma and discrimination is already high, and will be higher at this time. We've been working with Deaf Scotland on inclusive communication and highlighting access challenges to mental health resources for people with hearing impairments. We've been working with our LGBT mental health champions See Me Proud on what COVID and lockdown looks and feels like right now, and have found different ways to engage people, such as a See Me Proud LGBT hosted quiz for Mental Health Awareness Week. Finally, we've been working with Feniks, which is a Polish community based organisation in Edinburgh to look at male suicide in the polish population and to  understand more about the part that mental health stigma and discrimination has to play.
The Alliance's  podcast will be broadcast during this year's Mental Health Week, the theme of which is 'kindness'. What's been going on for you, See Me and the volunteers this week?
This year our volunteers and team had a big focus on digital activities that everyone could get involved in, and all of these were streamed live on our Facebook page. We also launched the next series of our podcast, based on the Journey of the Social Movement and our report we released in March.  You can listen to that by subscribing on our website or by searching See Me Podcast where ever you get your podcasts.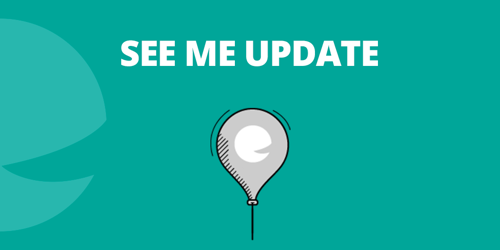 During the week our LGBT champions at See Me Proud hosted a Not in the Pub Quiz, which was streamed live on Facebook and was a mix of general knowledge, mental health and LGBT-related questions. Our volunteers Chik and Angela also hosted an online poetry workshop on Facebook live which had readings from our volunteers, questions for discussion and some great interaction. The video has now had over 1.2K views which is amazing. And finally our volunteer Tina read some passages from her book 'Seconds to Snap' on Facebook, and spoke about her experiences of mental health with our Communications Manager Nick. People joined in to hear her story, get involved in the discussion and hopefully we inspired people to take action to challenge mental health stigma.
See Me began in 2002, with the latest phase of the campaign getting underway in 2013. Some of the work has been brilliantly captured in the Movement for Change story on the See Me website. What are some of the key highlights and achievements you would pick out?
We  began in 2002, and we were re-founded as a behaviour change programme in 2016. Social movement lies at the heart of what See Me does, and the Journey of a Social Movement is the story of See Me and the impact we've had over the last five years, told through the stories of some of the people who have worked with us. It shows the journey that people have been on, while working and volunteering with us, to tackle stigma and discrimination in workplaces, schools, health and social care and communities. In those stories there are lots  of amazing and inspirational examples of where See Me has supported others to take action.
For me some of those highlights include Bridget, one of our champions who  speaks about how volunteering with See Me has given her the courage to do public speaking, she is now a tutor in  Borders Recovery College and sits on the Borders Mental Health Forum, through the connections she got as a champion.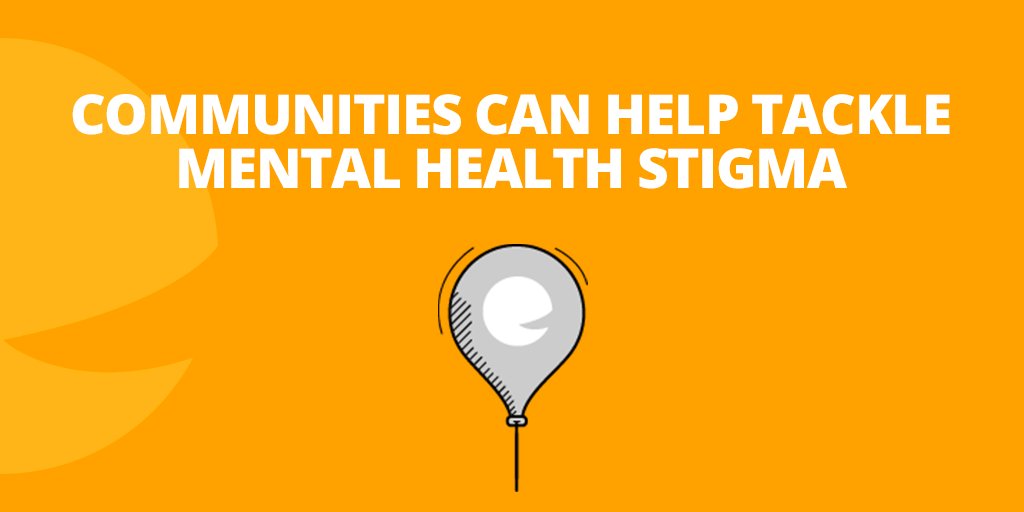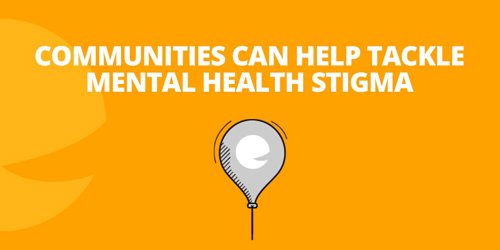 Another of our volunteers Liam now feels able to speak to people about what it is like for him to experience schizophrenia and has started his own choir. He genuinely feels now like he is able to change the way people think about schizophrenia.
These are just snapshots of the impact that people are having. And while we're delighted to help people in the movement, we are just a vehicle for helping people to realise their own abilities.
Congratulations on your recent appointment as Director of See Me, having been with the organisation as Assistant Director - Programmes since 2017. Looking forward, what's your vision for the future?
I am absolutely delighted to have been appointed in this role. It's such an important agenda and I feel privileged to be leading the programme into its next phase. Right now my top priority is working to understand what impact COVID-19 is going to have on mental health stigma and discrimination. Of course some of what we planned will need to change as the world has changed around us, and we need to develop our programme of work to respond to that. As always designing this with lived experience at the heart will be key I want See Me to be directly involved in activity that reduces the inequalities experienced by people with severe mental health problems and mental illness. As a national programme my ambition is that we share learning and experience in ways that support and encourage more people to consider mental health and discrimination, and take action to address it as part of their business. It's essential that we give voice to the issues, challenges and opportunities and enable people to influence change that will improve the quality of their lives.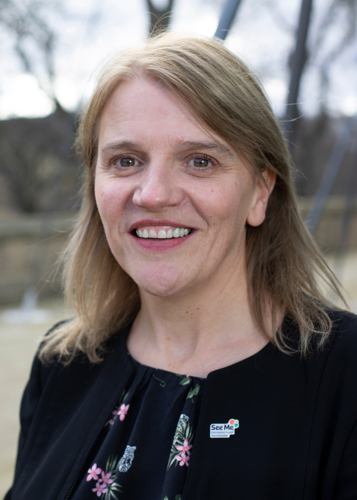 One of the other priorities going forward for See Me will be to focus on rights. We were part of a programme around rights for life, and more recently a partnership that put forward recommendations to the Scottish Government for change in relation to equality, rights and mental health legislation. This is something we plan to do more of.
You can listen to the the Alliance Live podcast featuring Wendy below. 
Listen Here