Tackling Stigma This Mental Health Awareness Week
Posted by See Me, 18 May 2020
The theme for this year's Mental Health Awareness Week is kindness, something which is vital in helping to tackle mental health stigma and discrimination.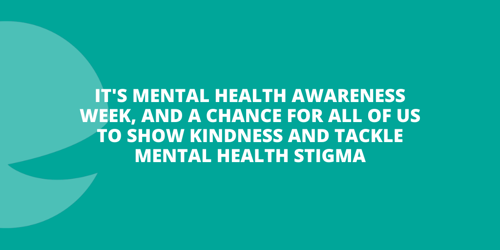 Research we released when we brought out our journey of the social movement report revealed that 56% of people with a mental health condition in Scotland have experienced stigma in discrimination, with it most like to come from those closest to them, family, friends and colleagues.
One of the impacts of that stigma and discrimination is that one in three of people with experience of mental heath conditions don't feel comfortable speaking about it.
Right now we're living through a time where more people than ever before will be struggling with their mental health.
People with pre existing mental heath conditions will still be struggling, maybe worse than before. People who have never struggled with their mental health before will be struggling now. No matter the reason, everyone's mental health needs to be taken seriously.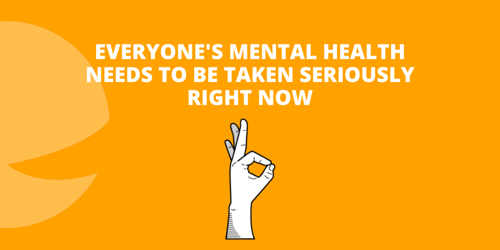 So what can we do? What can we do for the first time this Mental Health Awareness Week, or what can we carry on doing that we have done many times before?
Some things can be simple. If someone you know is struggling with their mental health, a call, a video chat or a message asking them if they are okay and showing you care can make all the difference.
For someone struggling with their mental health, experiencing stigma and discrimination can make it so much worse, but a simple act of kindness, like reaching out and asking how can you help, could help someone in their recovery.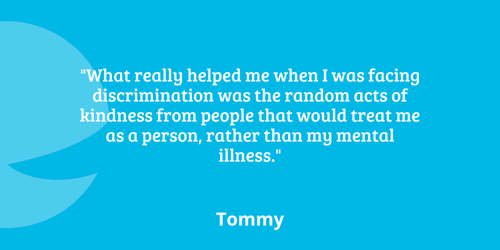 If you're going through a tough time, don't struggle alone with your mental health, be kind to yourself, find someone you trust and speak about how you're feeling. You deserve help and support.
We also asked our volunteers what if they felt that their mental health had been taken seriously during lockdown, and what acts of kindness had helped them when they're struggling with their mental health or experiencing stigma and discrimination. Here is what they said.
"During covid-19 I don't think people's mental health has been taken as seriously as it was before. I think we've been too focused on the practicalities of lockdown rather than the day to day impact that it's having on people. I really hope that more is done to make sure that young people's mental health is protected." – Chloe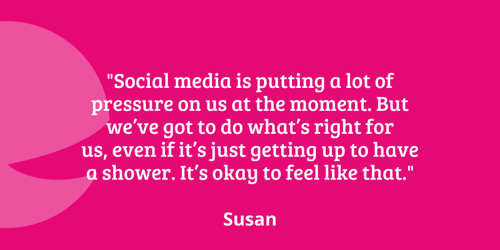 "To me covid-19 has affected me dramatically, I'm not able to dot he things I normally do. My classes and groups have had to shut which has had an effect on my mood and how I feel. The fact that my support isn't there is also difficult. " – Denise
"Mental health at the moment is being seen in a more positive light, because people are talking about it more. Sadly there are more people having to cope with these feelings, but we are talking about it more. The more we talk about it, the less stigma there is around our mental health, and that's a good thing.
"Social media is putting a lot of pressure on us at the moment. But we've got to do what's right for us, even if it's just getting up to have a  shower. It's okay to feel like that."- Susan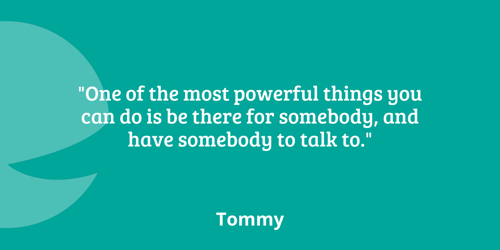 "What really helped me when I was facing discrimination was the random acts of kindness from people that would treat me as a person, rather than my mental illness. One of the most powerful things you can do is be there for somebody, and have somebody to talk to." - Tommy
My usual fortnightly appointments with Community Mental Health Team were cancelled when lockdown started. I was told if I needed support then just to ring the crisis team. It had quite a big impact on me, I felt quite anxious and unsettled knowing that the support had been withdrawn and the therapy we'd been working through wasn't going to happen for an unknown period of time. However, last week they got in touch to say we could resume the appointments over video call, had the first one on Friday last week. 
I kind of feel like a lot of the messages coming out are aimed at the general public and their mental health, which is obviously a great thing because everyone is struggling. But when I was really struggling a couple of weeks ago I kind of felt like there wasn't much in the way of advice for people whose existing mental illnesses were worsening. For example my OCD has been much more difficult to deal with lately and anxiety in general. Usually I'd get that kind of advice and support from Community Mental Health Team but it had been withdrawn. 
Kindness can help when you're struggling, like the support of family and friends. Whenever I've experienced stigma and discrimination I've talked about it (when I've felt ready to) and those I choose to speak to always show kindness in recognising how I'd been finding things hard and listening without judgement to how I was feeling. - Gemma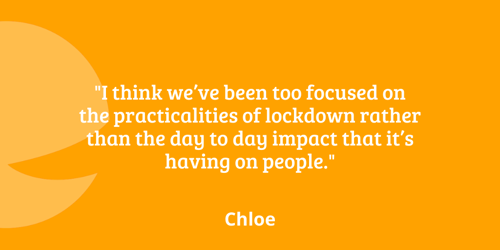 I really believe in being kind to others and to yourself. We are our harshest critics and being kind to ourselves is a huge part of being mentally healthy I think. The voices that tell you so many negative things about yourself really make a huge impact on your recovery and how you live your life daily, so it is important to be gentle and kind on yourself. - Tina