Tackling Stigma and Discrimination Across Scotland
Posted by See Me, 24 October 2017
Our Champions and volunteers have been really busy this month getting people talking about mental health all over the country, from Aberdeen to the Borders.
They are doing a great job in reaching people in their communities and showing that it is okay to speak about how you're feeling.
At the very end of September Kay Gilmour was joined by Gary Macdonald, Suzanne Baines and Des Macmillan for the Dundee Recovery Walk. As well as taking part in the walk Kay set up an amazing stall where the Champions encouraged people taking part to say what makes them feel proud. Not only that but they passed an INCREDIBLE 400 badges, talking to everyone who got one about mental health.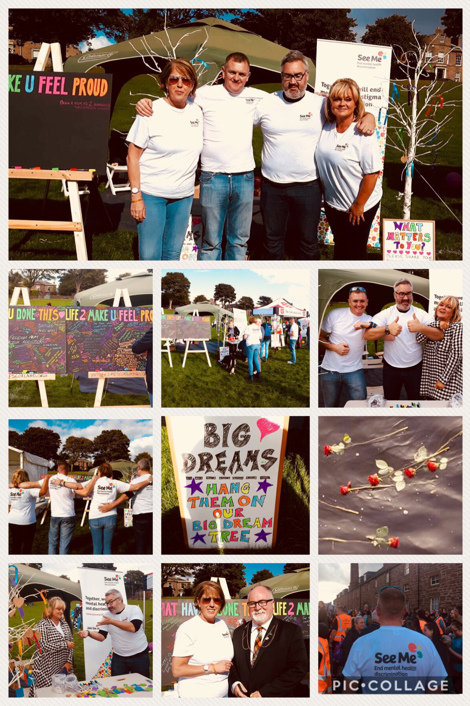 On the same day Bridget Dickson put on a Walk a Mile in Galashiels, and even managed to get a piper to lead them through the town! We always say that mental health is something we should all be talking about, and what better way to show that than going right through a town centre with bagpipes. Thanks also to our volunteer Susan Falconer who came along to support Bridget at the event.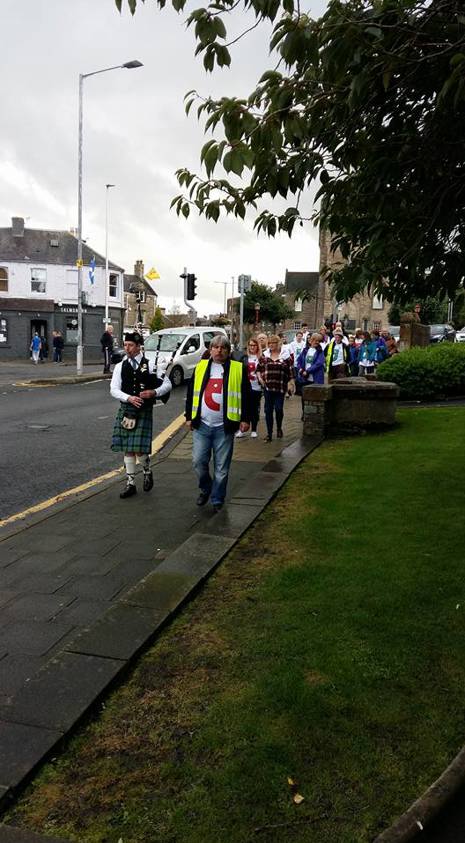 Christa Reid, one of our Champions in Aberdeen spoke at a business connection breakfast about mental health and work. Then on World Mental Health Day Christa joined some our colleagues from SAMH to share information on mental health and See Me at Aberdeen City Council.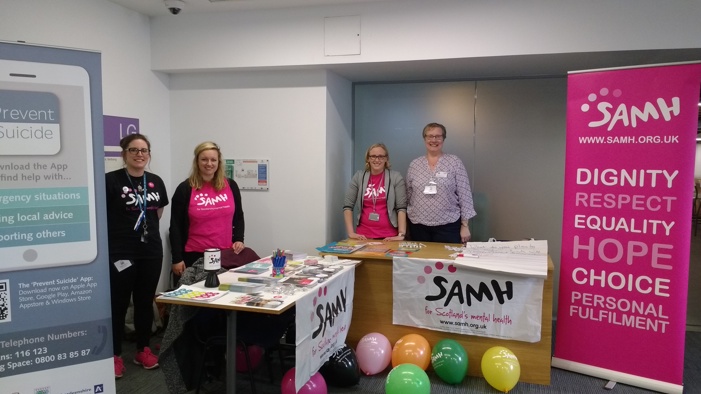 On the 18th Wendy Erskine delivered a stigma & discrimination workshop to GAMH's (Glasgow Association for Mental Health) mental health carers group with our social movement officer Eilidh. They also did a pass the badge and spoke about the types of issues mental health carers face. Wendy did great at opening up the discussion to focus on self stigma, which we know can be a massive barrier for many.
On the 19th our volunteer Gabby Quinn attended the South Ayrshire Mental Health Strategy Launch and also introduced a pass the badge! They have some key points which focus on stigma and we're always keen to link in with health and social care partnerships.
On Monday 23rd Emma Brooks delivered her first ever public talk with us, to Edinburgh Young Walkers. She spoke to them about the running group she is setting up in Aberdeen, Mind Over Miles.
As well as supporting other Champions Suzanne has been busy in Renfrewshire, encouraging people to look after themselves and find hope from the positive things in their life, with her You Matter Always project.
She also spoke at a You Matter Always event, as part of Paisley's 2021 bid to be the UK city of culture. Suzanne was joined at the event by fellow Champion Karen Lally and a few of our young volunteers also took part in the event, focusing on young people's mental health.
On October 26th she will be at the Listen and Learn event from Renfrewshire Anti Stigma Alliance, as part of this year's Scottish Mental Health Arts Festival. Tickets are still available for this.
And all her hard work is really paying off, as two of her poems on mental health have been selected to go up at Paisley Gilmour Street and Port Glasgow Train Station as part of a SMHAF exhibition. Let us know if you see them!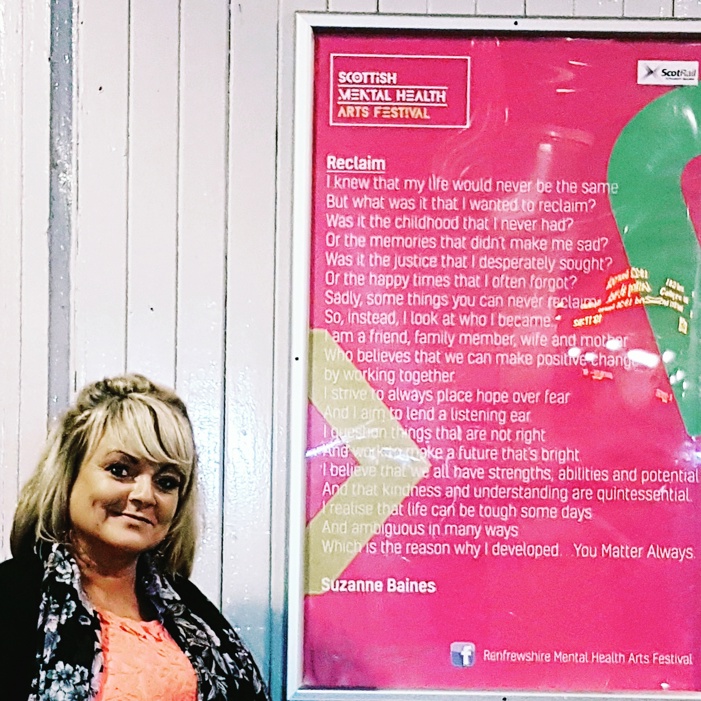 On the 27th Chik Duncan is joining Eilidh, and our policy and practice officer Benj, to deliver a workshop on mental health stigma to nursing students at Glasgow Kelvin College.
Finally, next month Bridget will be putting on her next Don't Judge a Book by It's Cover event in Biggar. It's sure to be amazing, so if you're free, get yourself along.