Our Statement on Black Lives Matter
Posted by See Me, 4 June 2020
As a programme set up to tackle stigma and discrimination, we fully support the movement to end racism and tackle the unfair, and unjust discrimination that black people, and the wider BAME community still face.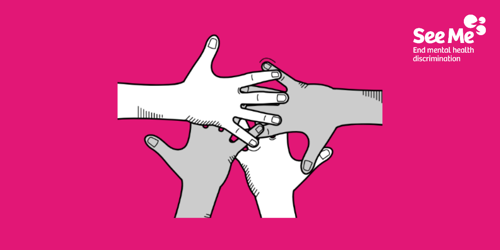 We still have a lot to do in mental health, this is an area where people face inequality because of their race. We need to ensure that people from BAME communities have fair access to support, and feel able to ask for help when they need it without the fear of experiencing discrimination. No one should experience discrimination because of their race, or mental health, unfortunately too many people experience it for both, making the chances of recovery even harder for BAME people in Scotland.
To make a difference, we need to all be educated, we've got some links to information on mental health in BAME communities in the UK below. 
#BlackLivesMatter
More Information 
https://www.mentalhealth.org.uk/a-to-z/b/black-asian-and-minority-ethnic-bame-communities
https://www.alliance-scotland.org.uk/blog/news/bame-communities-experience-barriers-to-accessing-loneliness-support
https://www.bbc.co.uk/news/uk-scotland-45565034
https://www.bbc.co.uk/sounds/play/b0b9zfws
https://mediadiversified.org/2018/09/20/the-mental-health-system-is-not-designed-with-us-in-mind/?fbclid=IwAR3EpQ793xjPHArZtx-Abhta2FqDZx6dxJFcs1jSu9-ubJtWqmpcnw_f-m8