NHS Scotland Event 2018 and Meeting Prince William
Posted by See Me, 26 July 2018
Held annually across two days, the NHS Scotland Event is a key networking and educational event with over 1,500 attending each year.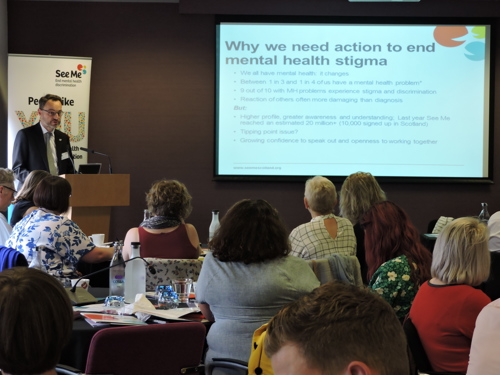 Every year, the event provides the opportunity for those working in and with the NHS in Scotland to come together to consider the challenges, to share best practice and the most innovative approaches to improving healthcare.
This year we were pleased to be invited to share the stage with Chief Nursing Officer Fiona McQueen, sending an important message about tackling mental health stigma and discrimination in health and social care.
Being invited to speak alongside Fiona our director Calum spoke passionately about See Me's work and the importance of stigma free environments and improving healthcare overall.
Hear what Calum had to say here.
Separately from the NHS Scotland Event we were delighted to be invited to attend an event in Edinburgh to celebrate the 70th Anniversary of the NHS along with some of our young volunteers. Excitingly our young volunteers got the chance to meet Prince William and First Minister Nicola Sturgeon and had great conversations with them on their views on mental health and the impact it's having on today's society.