Creating Mentally Healthy Workplaces
Posted by See Me, 23 January 2019
This month we held our annual Workplace Learning and Celebration event. This year's theme was focused on 'tackling mental health stigma and discrimination in the workplace- what works'.
It was our biggest and most thorough workplace event to date, with attendance from a wide variety of sectors including those engaged in the See Me in Work programme and those interested in finding out more about our work.
Lived experience framed the day, with See Me volunteers sharing their personal experiences of mental health stigma and discrimination in the workplace throughout the day and closing the event with calls to action for employers.
Participants were given the opportunity to find out more about the case for supporting staff mental health, current national policy and developments within the context of mental health in the workplace and how to take action to move towards more inclusive working environments. 
A key theme throughout the day was working in partnership, with a panel discussion focused on working together to tackle mental health stigma and discrimination; providing the opportunity for thought-provoking and lively discussion.
This theme was continued through workshops facilitated by a variety of employers engaged in the See Me in Work programme and partner organisations. The workshops were designed to explore some of the key building blocks that help employers create a mentally flourishing workplace, free of mental health stigma and discrimination and provided participants with the opportunity to hear 'what works' from those with experience of this work.
Participants also got to hear more about developments within the Workplace programme and received a preview of new resources that are being developed for employers.
There was a lot of enthusiasm and interesting conversations from participants throughout the day. Feedback from participants' highlighted that the day was a useful opportunity to meet and learn from their peers and to support their journey towards ending mental health stigma and discrimination in the workplace.
This event was also thoroughly enjoyed by the Workplace and wider See Me team. As we look to the year ahead, we are excited about how this event will encourage people to take action and for us; the event is already a key highlight of the year!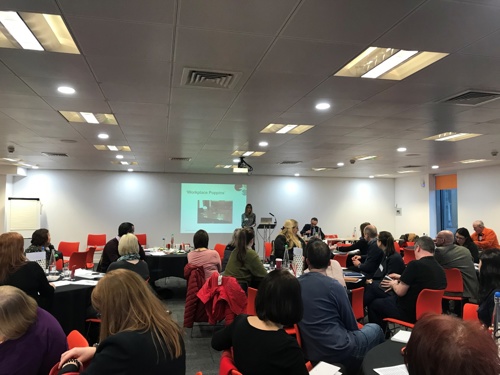 We want workplaces in Scotland to create a culture that is open in talking about mental health and where stigma and discrimination is challenged. Find out more about our See Me in Work programme here. 
Find Out More