Shah's Story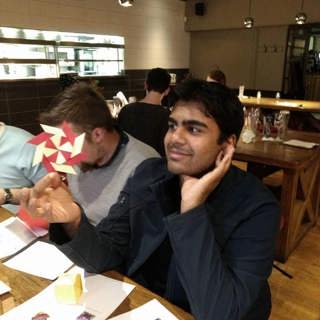 When I was in primary school and secondary school I was bullied quite heavily. Often I would struggle with eating habits. I started to gain a lot of weight and didn't handle it well at all. I had a lot of insecurities and self-doubt. It wasn't acknowledged by teachers.
It took me a long time to figure out it was an eating disorder. It's hard to explain to others what you're going through when you don't understand yourself. I think people saw I was struggling, but didn't know how to handle it.
It was hard talking to anyone about it. It was hard with family as it made them upset. It was hard with teachers. There was one teacher who made it more difficult. I had to miss one class per week so I could go and get help. I struggled to explain to her what I was going through. The first time I had to be off school I lied to her and said I was going to a GP. When I did eventually tell her what I was going to see and why, she was very dismissive, and said I needed to focus on my education. But it is much harder to focus when you are struggling mentally and not getting help
I worried about telling people, most people I did talk to didn't understand.
Some asked very insensitive question, or they just wanted to tell me their opinions on what was wrong and not listen to me.
My family are amazing, but they are immigrants who have been through a lot, more than most people could understand. When I look at what they went through I felt that my issues were not as significant, like I was making it into a bigger issue.
I wouldn't trust people in school. The students saw me as someone who was different. I was a minority in Glasgow, and although there were other people in that minority, I was a minority religion among them, so I had a hard time fitting in.
My mother made speaking about how I was feeling much easier.
It was hard to talk to her as it could upset her, but there was no one else at that time for me to talk to about these things. But it really helped us to appreciate each other. We all have flaws and we are all human.
My family tried their best and eventually I got really good help in 5th and 6th year with a dietician prescribed by the GP.
My dietician was amazing as well. The skills she gave me really helped, and she also helped me to understand my mental health, which was amazing. Her job was just to help me with my eating, but she went above that, helping me with how I was feeling, which made it much easier to handle.
One of the biggest things was talking to my dietician. Improving my diet was a big concern, without her I wouldn't be able to deal with things in the same way now. Having someone outside of school or family who you can open up to really helps.
I think having good, caring, empathetic friends really helps as well. I have had friends who are like that, and friends who aren't, and it makes a big difference.
Music can help too. I listen to certain types of music when I feel a certain way.
If I'm upset I listen to something emotional of powerful, I'll listen to lighter music which can help me to stop worrying about things, other songs can help me sleep. It's really useful.
Listening to music that relates to how you're feeling is really therapeutic and can help you to understand things on a different level. Songs can reduce you to tears, which can sound upsetting, but it's a good way of coping.
Back to stories
As part of the Year of Young People we have created the world's first emoji-powered jukebox for mental health. Feels FM is an online platform to help young people express their feelings, use music as a positive coping strategy, and find new ways to talk about mental health stigma and discrimination. 
Visit Feels FM