Lynsey's Story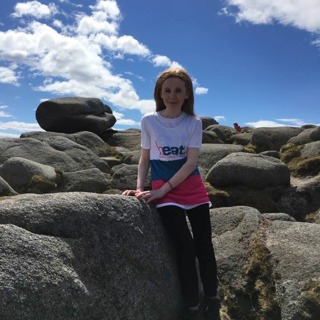 The last 10 years for me have created a batch of mixed emotions and an upheaval of hardships in my life.
I attended college and university which I enjoyed very much and met many lovely people and more importantly gained qualifications which would allow me to have a good job with a sense of satisfaction. I had a focus within myself of always wanting to be slim. I had been quite plump at school and I instantly wanted this to change to be like others my age. I wanted to be like my peers and felt that I needed to fix myself in order to be happy and be like them.
I battled through working two jobs which were long hours and ate very little food and also went to the gym. I could see people were worried about me but the voice was telling me I must go and work out.
As concern with my parents was growing they asked me to visit the doctor.
I was always in denial there was anything wrong, I felt perfect, so it took a long time before I plucked up courage to go.
Instead, I decided I wanted take part in the 10K Great Scottish Run, I thought to myself this would be no problem to me. I began to collect donations and get sponsorship whilst continuing my daily regime to remain thin and also to make sure I could achieve my goal.
Members of my family by this time were commenting on how thin I was and told me to get help. I felt fine, I was in control of my eating and my life and was oblivious and in denial of any problem.
But after a while I made the decision to visit the GP to get clarification on what was happening, my mum came along with me as I didn't want to go on my own. I had taken the morning off work and to my dread I got the worst news I have ever encountered in my life. The doctor took my weight and completed some gentle questioning with me, she confirmed at that time that I had Anorexia Nervosa. I was ashamed of myself, I had a serious mental health condition which could kill me.
The basic aspects of life people take for granted were things I just could not face, I often asked myself why did this horrible illness try and take over me, what had I done wrong.
Time after time many people would say to me are you ok? I always responded yes, I didn't want people to know or understand my life and issues which came along with it.
At another appointment the Doctor made me aware of the prospects I could find myself in, the word 'hospitalisation' was used, this was enough to make me cry.
I realised it was a no win situation, I either change and make my life better or simply be admitted to hospital which I did not want. I felt at breaking point for the first time in my life but I wanted to fight back and not let the illness win.
I had the wakeup call which potentially I needed in order to make me realise my health was deteriorating before my eyes and I was allowing it to happen by not looking after myself.
I continued my changed eating pattern and others noticed my progress and made comments to me which was positive.
As my visits went along my weight increased in line with my BMI also increasing. I was so excited that I could look at arranging a charity event to help others with Anorexia Nervosa. I made an effort to look to raise money for the charity Beat which helps those who are suffering from Eating Disorders which include Anorexia and Bulimia.
I set up a Just Giving page in order for donations to be made. This was very successful and drew many people's attention across far and wide on social media and my local community. In total I raised £2000 which was fabulous as the help this could give to others was phenomenal. Along with this I volunteered with See Me which also raises awareness of Eating Disorders.
On Saturday May 6th 2017 I completed my hike on Arran for Beat, it was a wonderful day with my family and friends and I will remember it for the rest of my life. I compiled some photographs together with the final certificate to confirm the money raised in memory of the day and to show the value the money gave to helping others around the country suffering from an eating disorder.
Back to stories