Chrys's Story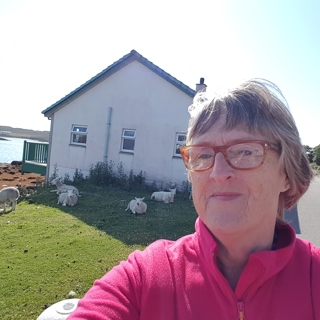 In 2008, aged 55, I got involved in mental health matters because I'd shared my personal story on the Scottish Recovery Network website in 2005 and attended their Glasgow Peer Support conference in the December, and so in January 2008 I started a voluntary organisation Peer Support Fife alongside my own website promoting recovery.  It was an exciting time, anticipating changes in the way that mental health services were run, giving more power to people with lived experience of overcoming mental health challenges.  Or that's what I thought it was all about.  Empowerment and a civil rights movement.  Similar to the work I'd been doing since 1980 in communities, developing grassroots projects and providing opportunities for learning, to adults, young people and children.
Eight of my family through 3 generations have experienced psychosis and psychiatric treatment: my Mother and Father, two younger sisters, my three sons and I.  For us psychosis was a way of externalising mental distress which resulted in coercive drug or shock treatment which further re-traumatised.  In my case I experienced psychosis after the births of my second and third sons, 1978 and 1984, due to very painful, induced with oxytocin, labour, the drug increased so that I would deliver on the day shift, both sons born just after 3pm.  The effect of this was to cause altered mind states, acute sensitivity to the environment, difficulty with sleeping, and so I voluntarily entered a psychiatric ward, both times, separated from my babies and forcibly injected with antipsychotics. I managed to make a full recovery after both these treatments, tapering the drugs myself, getting back on with my life. 
Then in 2002 I experienced another psychosis at the menopause, existential and hormonal, again voluntarily going into a psychiatric ward and being coercively drugged.  My stories can be found here: http://chrysmuirheadwrites.blogspot.co.uk/
In this See Me story I'd like to highlight the stigmatising and discriminatory impact and nature of psychiatric diagnosis and "family history of" written in medical notes, particularly in 2012 when my youngest son, who lives with me, experienced a mental health crisis or psychosis.  He wanted help and asked for help, then eventually was locked in a seclusion room of the IPCU (intensive psychiatric care unit) with no toilet, light or water plus other failures in duty of care.  I raised complaints and won an Ombudsman complaint in September 2014, and an apology from the health board (Scottish Sunday Express article).  However during the first year 2012 following my son's negative treatment I became aware of investigations by social work into my character, having done an FOI request for the Adult Protection Investigation report which found nothing amiss with the hospital practices.  I asked for copies of my son's hospital notes and saw written there "family history of schizoaffective disorder (my diagnosis)" and comments about me, including "difficult and demanding Mother" which appeared to justify my son's coercive treatment.  I'd been advocating for my son in clinical ward meetings after he asked me to. 
Therefore the fight for justice following my son's abusive treatment was further complicated by attempts made to lay the blame at my door because I'd been a psychiatric patient in the same hospital and was known to the nurses, having raised concerns already in 2010 about things I'd witnessed in the acute ward when visiting my son.  That year I had highlighted issues with a range of senior staff in different organisations.  In retrospect I believe that my raising of concerns negatively impacted on my son's treatment in 2012.  I've been called a "troublemaker" and excluded from meetings for speaking out about my son's treatment.  It's not been easy.
Then in August 2015 I experienced another reactive psychosis following the years of campaigning for justice and fortunately this time around managed to avoid psychiatric treatment. 
I got Lorazepam from an out-of-hours locum Doctor at a community hospital and taking one pill on two separate nights helped me regulate sleep.  My son supported me through and I also engaged with clinical friends by Email.  I found this to be a positive experience despite at times being unsettled by altered mind states and extreme sensitivity to the environment.  I reasoned these through as being helpful scenarios eg if people were watching me then it was for my own good.  If insects and birds were somehow more noticeable then that was positive and natural.  That love of nature has continued to be a positive experience and I'm much more appreciative of the environment, following this last psychosis.
I don't fear another psychosis as I believe it will be a life-enhancing experience, just like the last one.  It was far more risky for me entering a psychiatric ward as a voluntary patient.  The drugs don't suit me, I find them iatrogenic.  And so I am now working to promote, and hopefully research, Safe Houses for Psychosis, alternatives to psychiatric inpatient treatment.
Back to stories