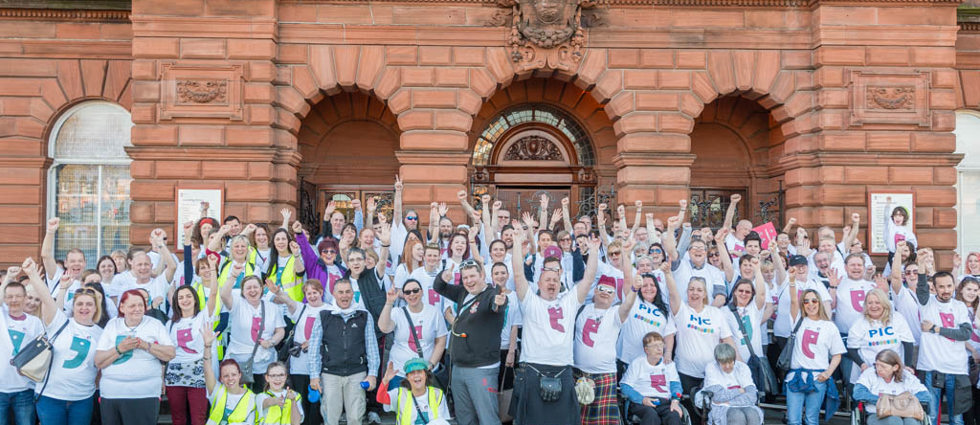 Walk a Mile
Walk a Mile brings people together to speak about mental health and 'walk a mile in each other's shoes'. Find out more about breaking down stigma one conversation at a time.
Walk a Mile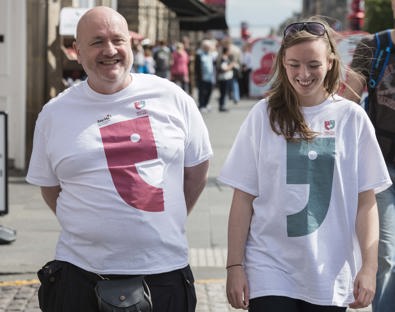 On September 3rd 2015 we launched Walk a Mile with Chris McCullough Young by walking down Scotland's most famous street - The Royal Mile.
Inspired by Chris' walk around the UK to tackle mental health stigma, we have had hundreds of people come together to walk and talk, to help break down barriers.
Walk a Mile brings together professionals, carers and people with lived experience, people who may normally stigmatise each other, to walk together, to get to know each other and walk a mile in each other's shoes.
There are no uniforms, no barriers, everyone is on a level playing field, it's about breaking down stigma and seeing how fabulous people are.
To find out more visit the Walk a Mile website. #letswalkamile
How can you run a Walk a Mile?
Walk a Mile is a great way to get people talking about mental health in a variety of settings. People all over Scotland have put on walks at schools, workplaces, hospitals, in their community and more, to show that mental health can be a topic of everyday conversation.
We're always delighted to help people to arrange their own Walk a Mile events. If you're interested in putting on a walk, fill out the form here.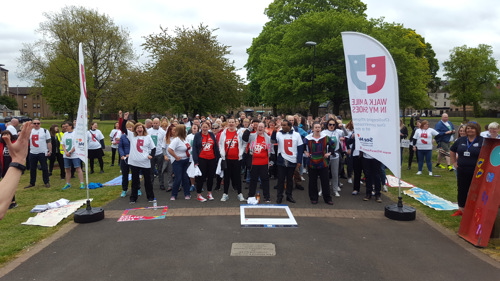 Walk a Mile - Where did it start?
The whole idea of Walk a Mile has been inspired by, and created with Chris. Check out this video where he tells you what it is all about.
What has happened so far?
On September 3rd 2015 Walk a Mile kicked off with a high profile walk along Edinburgh's Royal Mile, along with events in Inverness, Glasgow and Fife.
Since then many walks have been organised in communities, workplaces and schools. Check out the galleries below to get a feel from some of the walks so far.
To see more of the amazing pictures from the Royal Mile event, check out the storify here.
Over 1000 people took part in walks across Renfrewshire on 10th May as part of Mental Health Awareness Week 2017.
See the video from the Inverness Walk on the Birchwood Highlands Facebook page.
Walk a Mile Around Scotland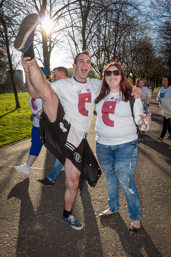 Keep up to date with everything Walk a Mile including Chris's blogs. Find out if there are walks near you, or get information on how you can host a walk, by visiting the Walk a Mile website.
You can also get in touch with See Me if you want to organise an event in your  workplace, school or other community venue.  Email us on: info@seemescotland or call us on 0141 530 1111  
Tackling stigma one conversation at a time.
Let's Walk a Mile
Join our movement for change
Anyone can help tackle stigma and discrimination. You can do as little or as much as you're able to and every action makes a difference.
Find out more