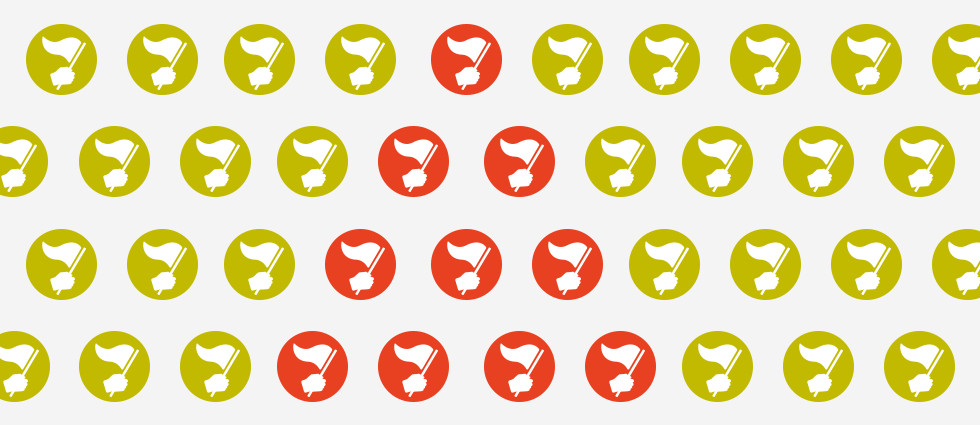 You can do as little or as much as you're able to. Every action against mental health stigma and discrimination makes a difference.
Join the movement
Our Latest Campaign
Our latest campaign 'The Power of Okay' - part 2 is currently running across digital media channels and in the cinema. It tackles people's fear of not knowing what to say or do head on when someone says they are not okay. Join the conversation by using #powerofokay on Twitter, Instagram and Facebook.
What's trending now on #myunfilteredlife
#myunfilteredlife is encouraging people to share a photo that shows their real life, not the filtered, self-edited perfect version we are used to seeing on social media. A screaming baby instead of an angelic one? The messy kitchen behind the perfectly crafted avocado on toast? Or the bad day in the office! Join the campaign and share your photo on intstagram, facebook or twitter then tag 3 friends or followers asking them to share one image of their real world too. Remember and use #myunfilteredlife #powerofokay, #stigma, #endstigma, #mentalhealthstigma
@seemescotland

Worrying about saying the wrong thing can stop a lot of people from talking about mental health problems with the ones they care about. But we all know some of the things to say, by letting someone know we are there. If you're unsure what to say to help, try this. #myunfilteredlife #powerofokay #mentalhealth #mentalhealthawareness #mentalillness #EndStigam #StigmaFighter #SeeMe #Scotland

@seemescotland

#myunfilteredlife from @elliemacdoodle Post #panicattack tonight. Right when I'm due for Champion training, too! Tea and my polar bear jumper, let's hope for a better day tomorrow, if not I'll just keep trucking on. #myunfilteredlife #mentalhealth #anxiety #anxietyattack #panicattacks

@seemescotland

Everyone has the right to be treated with dignity and respect and to receive fair treatment if they are ill or distressed. People often say the reactions and behaviours of others towards them after disclosing the nature of their illness can be more damaging than the diagnosis itself. No one should ever be made to feel ashamed or embarrassed to tell anyone that they experience mental health problems. It's okay not to be okay.#myunfilteredlife #powerofokay #mentalhealth #mentalhealthawareness #mentalillness #EndStigam #StigmaFighter #SeeMe #Scotland

@seemescotland

Great #myunfilteredlife from @j_ulia_11 Goofy face 🍱🍵 post-deadline happiness! Today I found out that (apparently) depression ain't even my problem and never has been; my depression is actually an effect of a much larger problem (complex PTSD) aaaaand I have also officially been diagnosed w/ generalised anxiety disorder 😑 I'm happy because I'll get the right support now rather than just having more and more antidepressants... But it's also kinda scary knowing that I'll need loads more therapy in order to overcome what I've been diagnosed with. Anyway, I feel strong today, and I am finally feeling hopeful again. This complex PTSD thing supposedly dissipates in your late twenties so I've only got a wee while left lol 😎 #myunfilteredlife

@seemescotland

If you're not feeling right, you're struggling with your mental health, or you think something is wrong but you're not sure what. You won't be alone in feeling like that. Between 1 in 3 and 1 in 4 of us will experience a mental health problem at some point this year. If you are struggling, then speak to someone you trust, tell them how you are feeling. Any of us could experience a mental health problem, but no one should have to feel worried about talking about it. #myunfilteredlife #mentalhealth #mentalhealthawareness #EndStigma #SeeMe #Scotland #PowerOfOkay #mentalillness #StigmaFighter

@seemescotland

#myunfilteredlife from @auroraskygla Attempting to reach out and expand my local social life and have just started a "Southside Conversations About Books and Ideas" group on Meetup.com but like many friends with social anxiety I push and pull, alternating between wanting to reach out and wanting to hide out at home where it feels cosy and warm and just read books as much as my limited concentration allows. Emily White has written movingly about her loneliness made her feel safest when avoiding social situations or one to ones and most at risk when reaching out. #myunfilteredlife #powerofokay #SeeMe #samh #EndStigma #Glasgow #okaynottobeokay #stigmafighter

@seemescotland

"I was always the guy who appeared to be on top of things and it was that sense of losing credibility that stopped me from having the courage to tell anyone. "I was working for a small high profile company and I worried that people would think I wasn't coping with the workload. I kept a lot of things private from many people, due to a fear of people's reaction and judgement" So many people, especially men, feel like this, they worry about what people will think if they speak about a mental health problem. We need to end stigma so people don't have to feel like this #myunfilteredlife #powerofokay #mentalhealth #mentalhealthawareness #mentalillness #EndStigam #StigmaFighter #SeeMe #Scotland

@seemescotland

A few days after, but here is a great #myunfilteredlife from @rachhhhyox My part for #worldmentalhealthday With all the mental health posts today I thought I'd share my thoughts. After having Reuben I ended up getting PND it was difficult dealing with a baby while suffering with PND. I wouldn't leave the house for days let alone do any housework or even look after myself. When I went out I would think people were judging me and I would doubt myself. I always seen people with their babies all happy and wondered why wasn't I like this? What was I doing wrong? I would leave Reuben for hours on end with other people to just to escape. I just basically doubted myself as a mum and constantly put myself down. I felt when I was pregnant there wasn't much info on PND and when you start to suffer from it not much people pick up on it. I was admitted back into hospital with Reuben when he was ill and twice the Midwifes had to take Reuben at night because I simply couldn't cope and would cry constantly.. I was never offered support. I wouldn't of got through this without my family & friends, family nurse or counselling. You're not a bad mum if you are struggling or feeling down always seek help. It's the best thing to do. #worldmentalhealthday #SAMH #myunfilterdlife

@seemescotland

How often do we open a paper and see someone labelled as a schizophrenic, or hear a young person described as a self harmer, or see a person called bipolar? It isn't right. We all have mental health, any of us could experience difficulties with our mental health. People are not a diagnosis, we are not labels we are given. We are all individuals. #myunfilteredlife #powerofokay #mentalhealth #mentalhealthawareness #mentalillness #EndStigam #StigmaFighter #SeeMe #Scotland

@seemescotland

#myunfilteredlife from @hiyakitty1990 You can be smiling on the outside, but in reality you're holding it all together with that smile, holding back a forever crumbling wall of depression inside. #seemescotland #seeme #endthestigma #mentalhealth #mentalhealthawareness #myunfilteredlife

@seemescotland

"For a long time I was embarrassed about my depression, I felt weak and stupid for having it. For an even longer time I did not even realise I had depression. So many people around me used to crack jokes about self harming, or suicide, or would degrade and mock people who they seen as 'too privileged' to have depression. Despite the fact that depression knows no class, family, intelligence, or friends. Depression can happen to everyone, it is not selective in who it consumes. I spent a lot of the time comparing myself to this apparent criteria that I felt I needed to meet in order for my depression to be accepted. Was I just attention seeking, or if I sought help would they actually try and help me? "It took me a long time to understand, and accept the fact that I had depression. It wasn't easy, I had lived under a blanket of self loathing and guilt from the jokes, and the stigma that those with depression are just lazy or stupid, or that everyone with a mental health issue is a danger. "I can't remember when or why something inside me just switched, and I realised that I shouldn't be ashamed. In a way I then became guilty that I was originally so fearful and embarrassed about it. I remember crying the first time a mental health campaign appeared on my Twitter. People retweeting and talking about things that related to me, my experiences, my fears. I suddenly felt less alone, I suddenly realised that I could get help, that these symptoms could be managed. "It is things like that, that make me so passionate in fighting mental health stigma and raising awareness. We should use our voice, we should talk about our experiences, and not be called attention seeking or accused of faking it. We shouldn't have to prove that our depression is valid, because all our mental health issues are valid. Even just one tweet can encourage people to look into their mental health, seek treatment, or even ask a loved one how they are doing. You might not believe that a few retweets of statistics or helplines can do much, but they really can." - Emma #myunfilteredlife #powerofokay #mentalhealth #mentalhealthawareness #mentalillness #EndStigam #StigmaFighter #SeeMe #Scotland

@seemescotland

Ahead of World Mental Health Day we spoke to Neil Lennon about his experiences of depression and the importance of speaking about mental health. He said: "I woke up one morning and I just knew there wasn't something right with me. My thought process was different, I was feeling different, I was getting aches and pains in my body, waking up on the hour, every hour, sweating all the time, totally lost my appetite, totally lost enjoyment in anything I did, whether it be football, socialising and that's what I found really hard to contemplate. I went from being this outgoing gregarious character to a totally introverted personality. "The main thing was the football, I just didn't want to be there and that was the thing I had done since I was born. Natural things like putting a pair of football boots on, I didn't want to do it, I didn't want to get in the car to go anywhere, I didn't want to be engaged with people. It was a really difficult period that I went through. "It was about four to six weeks until I went to see the club doctor. I said to him 'I don't know what's wrong with me here, physically I'm fine, but I just hate everything about my life and my job'. I explained the symptoms to him and he said; 'Neil you've got depression', I said; 'why?' and he explained there was no reason for it, it affects people in many different forms. I told him that I have everything I want in life but he told me it wasn't cut that way." See our film with him here https://www.youtube.com/watch?v=8LjCKzgQ2aI #WorldMentalHealthDay #WMHD16 #WMHD #WMHD2016 #MentalHealth #MentalHealthAwareness #MentalIllness #Powerofokay #Myunfilteredlife #SeeMe #Scotland #EndStigma #StigmaFighter #NeilLennon #Hibs #Celtic #Football #Depression

@seemescotland

Today is #WorldMentalHealthDay A time to show that you care, mental health affects us all and we all need to speak talk about it. One in four of us will experience a mental health problem at some point in our lives, but nine out of ten still face stigma and discrimination. This is wrong. Stigma stops people asking for help and can stop people from recovering. If you see someone and you're worried about them, ask them if they are okay and show you care. For some, speaking out about how they are feeling can seem daunting, you can make it easier. #WorldMentalHealthDay #WMHD16 #WMHD #WMHD2016 #MentalHealth #MentalHealthAwareness #MentalIllness #Powerofokay #Myunfilteredlife #SeeMe #Scotland #EndStigma #StigmaFighter

@seemescotland

A really good #myunfilteredlife for #WorldMentalHealthDay today from @helene1080 Colouring, like knitting, is said to be therapeutic. It allows you to have the invasive thoughts but it also lets you think through them and move on. Settings aside time to worry or THINK is a tough one because once it starts it feels like it might never stop and I will be consumed by it all... That said, I'm giving it a blast while I have some time. #stillthinkingthethoughts #colouring #vogue #parisianstyle #avocadotoast #minttea #depression #anxiety #bpd #myunfilteredlife #seemescotland

@seemescotland

#myunfilteredlife from @hanavison Didn't get much sleep last night because I couldn't stop myself replaying a conversation from earlier in the day over and over in my head, beating myself up for everything I said or didn't say and trying to second guess what the other person was thinking. Even now, almost 24 hours after the conversation, I still can't shake it and am feeling anxious and close to tears. Today's going to be hard as I try to carry on, taking my youngest daughter to playgroup and ballet and interacting with other mums (mostly acquaintances at best), all the while with this sense of impending doom and the feeling that I'm responsible for everything bad that happens and that someone will call me on it soon. This hasn't happened for a while. I've had CBT and there are strategies I've been taught to help me see this for what it is, but today it's not working and I'm so tired. I'm sharing this because #itsoknottobeok and I know how much it helps me to read other people's stories. The photo is me trying to distract myself in the middle of the night by watching Walker Texas Ranger. #mentalhealth #EndStigma #mentalhealthawareness #mentalillness #StigmaFighter

@seemescotland

We all need to be more comfortable speaking about mental health. If no one speaks about it, then no one will feel comfortable speaking about needing support. A lot of people want to help, but are worried of saying the wrong thing, so they just don't saying anything. So if you're worried, ask someone if they are okay and show you care. If we all start out at that base level of human kindness, the world would be a lot better. #mentalhealth #mentalhealthawareness #EndStigma #StigmaFighter #Scotland #SeeMe #mentalillness #myunfilteredlife #powerofokay

@seemescotland

#myunfilteredlife from @lynne_fox See me Scotland are running this campaign to show that life isn't always picture perfect. It's easy to get up and smile and say everything's fine. I can do that. But appearances can be deceptive. It's easier to pretend to be happy than admit that actually I feel sad and anxious and need help. I may look fine, come accross as fine and I might even be l inspirational with quotes about mental health and recovery... But I'm human and I have my own problems and these last few weeks I haven't been well. Sometimes the road feels like its never going to stop winding but I guess I have to accept that's my road and I'm on it for the long haul. <3 #mentalhealth="" #endstigma="" #mentalhealthawareness="" #scotland="" #seeme="">3>

@seemescotland

#myunfilteredlife from @christinecx Nobody ever warns you how it feels when you're sitting in a classroom while strangers discuss an illness you suffer from in such a matter of fact way. If you're me you wanna punch them and correct their opinions that to you are completely wrong, but you don't, instead you sit silently shuffling in your seat..chewing your pen or scribbling nonsense in your notebook pretending you're a normal student blissfully ignorant to all these illnesses being discussed and you haven't infact dealt with them up close and personal for years and that even simply hearing the words alone makes you want to scream. I suppose I'm a glutton for punishment, the career path I've chose is something I know I'll excell at but the downside is having to conquer the challenge of dealing with these triggers on a weekly basis. Psychology you tricky little bitch. #psychology #student #bipolar #bpd #mentalhealth #endthestigma #recovery #triggers #health #wellbeing #college #anxiety #depression #quetiapine #sertraline #mentalhealthawareness #bebrave #TALK #myunfilteredlife

See Me

"I've learned how strong I can be and I should be damn proud of that. It's well past time to end the stigma surrounding mental illness. It's so hard to maintain relationships when you can't talk about such a huge part of your life for fear of making others uncomfortable. "This illness doesn't change who I am. It's just something I'm learning to live with. And I'll never stop fighting" A great #myunfilteredlife https://www.instagram.com/p/BKoBIm_Bh-c/
Want to do more?
There are so many ways to get involved and engage with the movement, from becoming a supporter, volunteer or Champion. Click on the links below for further information about what more you can do.
Want to learn more?
To discover the full facts and issues around mental health discrimination and why we need your support click on the links below.