Central Station display encourages armed forces veterans to get talking about mental health
Posted by See Me, 26 April 2023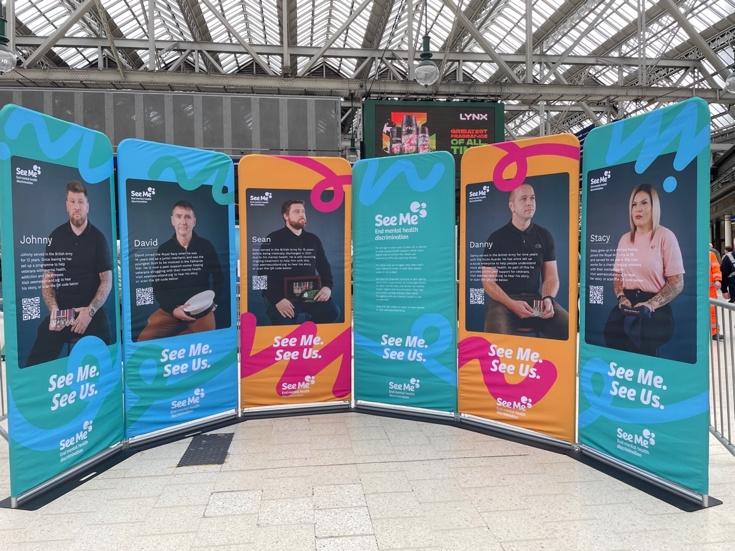 Scotland's busiest train station is hosting a new display to encourage more armed forces veterans to overcome mental health stigma and start speaking out about how they're feeling.
On average, it can take over a decade for a veteran to ask for the support they need with their mental health, with some even considering or attempting suicide before speaking out.
Veterans all over Scotland have said that not wanting people to know what they are going through, and thinking that mental health problems are a sign of weakness, stop veterans from reaching out for help with their mental health.
Judging themselves if they are struggling and a feeling they should just 'crack on' can mean that veterans reach a crisis point before they tell someone how they feel.
To change this, See Me, Scotland's programme to end mental health stigma and discrimination, worked with 30 veterans across Scotland to create The Guard campaign.
Sharing experiences
The installation features the portraits of Scottish veterans from different branches of the forces. Each of the five portraits, by photographer Andy Low, is accompanied by a QR code, which station users can scan on their phones to listen to each veteran's experiences of mental health stigma, and getting help.
Glasgow's Johnny Allison is one of the five veterans featured in the campaign.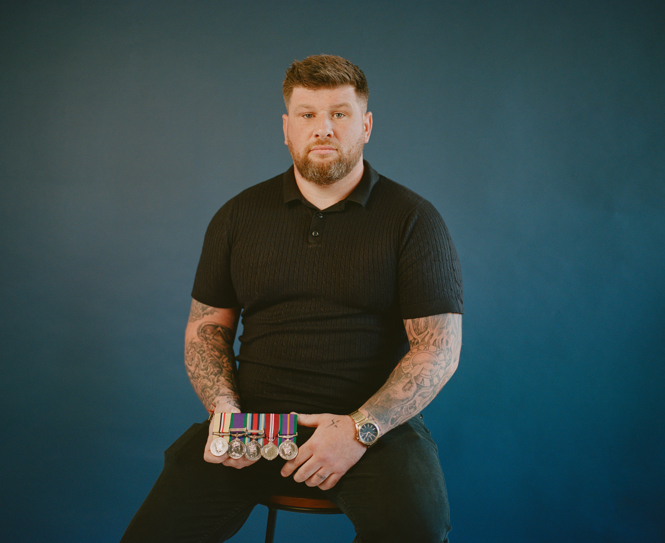 Johnny joined the Army at 16, and completed his first tour of Iraq when he was 18.
When he returned, he started drinking to deal with his mental health. He was discharged for drinking, before re-joining and completed tours in Afghanistan. He always found it difficult to say what he was going through.
He said: "I loved the army. I loved it from day one. I believe I was born to be a soldier. When I first experienced issues, when I went to the doctors, they were quick to put down about my alcohol consumption – it was easy enough to label me as alcohol dependent. I was crying out for help and I didn't know how to ask for help, I didn't know how to explain what was wrong with me.
"My mother was the one that spotted it. She said to me, 'You're not the same boy who went away.'"
"For me, I just struggled to process everything that happened. It was as if, when I came back home, my brain couldn't function. I needed a drink to settle my head down."
Stigma has been a big issue for Johnny, and prevented him from reaching out for help for some time.
He said: "When I was first getting diagnosed with post-traumatic stress disorder back in 2004, I experienced stigma. PTSD wasn't really a big thing, or as well-known as it is now. It was seen as, if you were going down the PTSD route, you were looking for a way out of the army. But I loved the army, so the last thing I wanted to be diagnosed with was PTSD so I did everything I could to avoid that diagnosis."
Johnny left the army in 2013, having served for 12 years. Since leaving, he has set up SMART Veterans, to support veterans with mental health problems, addiction and general life stresses. SMART Veterans has adapted a recovery programme to suit the needs for veterans with an addictive or compulsive behaviour.
Complex characters
He added: "We're complex characters. Talking about our problems does not come naturally, and it goes against everything that's been trained into us. When you're in a military environment, it's always keep moving forward. And that doesn't matter what's happened – our mission still goes on. And it's that mind-set, I think, that hinders us when we leave service. We don't need to keep getting on. We don't need to struggle in silence."
While veterans are not more likely to struggle with their mental health than the general population, they can take longer to get help when they are struggling. It is hoped that stories from veterans like Johnny can help dispel some common misconceptions around veterans' mental health, and encourage veterans, and their family and friends, to open up.
Wendy Halliday, director of See Me, said: "The five veterans who have shared their stories as part of the campaign are proof of the power in speaking about how you're feeling, and we hope that they can show other veterans who are struggling that they aren't alone.
"If you are a veteran, and you're struggling, speaking to those around you, like friends and family, is a great place to start.
"Likewise, if you are in a veteran's life and you're worried about them, ask them how they are, and show you will listen, not judge, and that you care. Often it is the people around a veteran who notice they are struggling first."
The portraits will be on display in Central Station until Tuesday May 9th.
Find out more about the campaign, and listen to the veterans' stories, on the See Me website at seemescotland.org/priority-groups/veterans, where you can also find sources of support and advice on speaking about mental health.