Our partners
Our delivery partners
See Me works with many individuals, groups and partners to challenge mental health stigma and discrimination. Our delivery partners are VOX, SMHAFF and the Mental Health Co-operative. We will be updating other partners contact details shortly.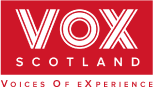 Voices of Experience (VOX)
Making sure those with Mental Health Problems are Heard. VOX is a National mental health service user led organisation, which works in partnership with mental health and related services to ensure that service users get every opportunity to contribute positively to changes in the services that serve them and wider society.
Contact
VOX (Scotland)
c/o Mental Health Foundation (Scotland)
5th Floor, Merchants House
30 George Square, Glasgow G2 1EG
Phone: 0141 572 1663
Email: info@voxscotland.org.uk

Scottish Mental Health Arts & Film Festival (SMHAFF)
The Scottish Mental Health Arts and Film Festival is one of Scotland's most diverse cultural events, covering everything from music, film and visual art to theatre, dance, and literature. The annual festival takes place in venues across Scotland every October, aiming to support the arts and challenge preconceived ideas about mental health.
Contact
Scottish Mental Health Arts & Film Festival 
C/O The Mental Health Foundation
Merchants House, 30 George Square
Glasgow G2 1EG
Tel: 0141 572 0413 (General enquiries)
Email: smhaff@mentalhealth.org.uk

Scottish Mental Health Co-operative
The Mental Health Co-operation was formed in 2010 to represent local not-for-profit organisations who specialise in providing mental health services in their respective areas throughout Scotland. The body serves as a platform to enable the views of local organisations and the many people they represent to inform and influence future mental health developments and policies within Scotland. if you would like more information including how to become a member, please get in touch.
Contact
Join our movement for change
Anyone can help tackle stigma and discrimination. You can do as little or as much as you're able to and every action makes a difference.
Find out more